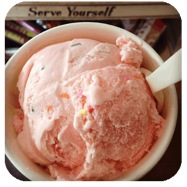 Although summer is fading, ice cream season remains in full swing for millions of sweet-toothed Americans. Last year consumers in the U.S. bought $13.7 billion worth of the dessert, an enormous number that doesn't even include restaurant sales. And according to a recent study, 40 percent of Americans will eat ice cream in any given two-week period. Nevertheless, on the whole people consume a lot less of the cold stuff than they did 25 years ago. Back in 1989 Americans ate ice cream 41.3 times per year, now down by 45 percent to 28.5 times.
Recent health conscious food trends have led many consumers to choose frozen yogurt when opting to indulge. At the end of last year, more than 2,500 froyo stores had opened up across the U.S. Meanwhile, sales have increased an average of 21 percent since 2008. One froyo stand called Red Mango launched in 2007 with just two flavors. The company opened up its 300th store this summer.
Soft-serve frozen yogurt has had its time in the sun once before, however. The chain TCBY began expanding across the U.S. in 1981 and reached its peak in the mid-1990s with approximately 2,800 locations. Interest in TCBY's treats waned steadily after that, though, dwindling to just 650 stores today. And even at froyo's height, the dessert could never touch ice cream's overall dominance. In fact, consumer analysts fear that the froyo bubble will soon pop, leading to another TCBY-like meltdown. Experts expect sales to start shrinking as soon as 2019, prompting some companies to expand their brands to other offerings. For instance, Red Mango sells as much juice on an average day as froyo. The outlook for frozen desserts is much sweeter outside the U.S. Brazil, Turkey and especially China have increased their ice cream consumption, contributing to what is now a tasty $77.3 billion global business.
Questions:
What's the likely future for froyo in the United States?
Why is ice cream's future looking tasty in global markets?
Source: Anne VanderMey, "Do We Still Scream For Ice Cream?" Fortune, July 24, 2014. Photo by David Berkowitz.