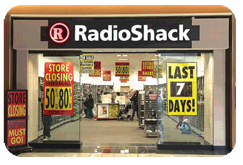 After years of declining sales, RadioShack finally seemed to be on the way out after filing for bankruptcy protection in February 2015. The electronics retailer had been a mainstay of American commerce for nearly a century, thriving off the sales of niche items like CB radios and pre-iPod portable music players. As technology became more commonplace, however, RadioShack struggled to keep up with the mainstream and settled into stagnation. Executives at the brand tried to reverse this trend by redesigning stores, but unfortunately they ran out of money before their plans could be fully realized.
Still, that doesn't mean RadioShack is gone for good. Under the terms of the company's Chapter 11 filing, the hedge fund Standard General will take over approximately 1,700 of RadioShack's 4,000 stores. These surviving locations will receive the makeovers that the original company bosses had long envisioned. Cellphones will be the first thing to disappear from sales floors as Standard General's partner Sprint takes control of all mobile business. Next to go will be expensive items like laptops, tablets and digital cameras, products that tend to do little more than clutter RadioShack's already packed shelves. Instead, the retailer's new management team would rather focus on high margin items like phone chargers, batteries and speakers in order to revitalize sales.
RadioShack could experience a tough transition into its new ownership, though, mainly because it may not be named RadioShack for much longer. The retailer owes $150 million to the financial firm Salus Capital Partners, who as a result has first claim on RadioShack's trademarks, patents and customer data. Of course, Standard General wants to buy this important intellectual property, but that doesn't necessarily mean Salus Capital will want to sell it. Even if Standard General wins back the full rights to the RadioShack brand, there's no guarantee that the aging chain can also attract customers again. After all, established brick-and-mortar retailers are having trouble across the board, a fact that could lead RadioShack to go online-only in the future.
Questions:
Can firms such as RadioShack come back after years of declining sales?
Should Standard General purchase RadioShack's intellectual property?
Source: Matt Jarzemsky and Drew Fitzgerald, "RadioShack Files for Bankruptcy," The Wall Street Journal, February 5, 2015; Peg Brickley and Drew Fitzgerald, "RadioShack Is Dead, Long Live RadioShack," The Wall Street Journal, April 1, 2015. Photo by: Mark Mathosian.