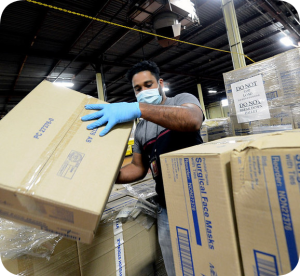 As brick-and-mortar retailers struggle to make ends meet during the pandemic, e-commerce outlets like Amazon are thriving as consumers purchase more products from home than ever before. Experts expect that this trend will continue into the holiday shopping season, which can drive as much as 30 percent of retailers' overall sales. So while companies would normally be hiring extra cashiers to prepare for Christmas, this year they're bringing in warehouse workers to handle the high volume of online orders. 
"A lot of new jobs are coming from e-commerce, which means retailers are competing for a very similar employee: Someone who works in a warehouse, who can sometimes operate heavy machinery," said human resources analyst Andy Challenger. "They are competing for a smaller group of people, which drives up wages." Since these new positions tend to require previous experience working in warehouses, companies are trying to win over skilled candidates with competitive salaries. Retailers are also bringing in lots of call center workers to provide remote customer service during the upcoming shopping season.
Companies are improving their curbside capabilities as well, with Target planning to double the number of employees fulfilling curbside pickup orders. The retailer plans to hire about 130,000 workers in total, but it remains to be seen if consumer demand will match this level of investment. "There is so much uncertainty this year — with unemployment high, government stimulus dwindling, the fact that consumers have less money in their pockets — it's hard to predict what sales will look like," said Challenger. "Companies are waiting to see what will happen."
Questions:
Why are retailers hiring lots of warehouse workers for the upcoming holiday shopping season?
Do you think consumer demand will reach its usual highs during this year's holiday shopping season? Why or why not?
Source: Abha Bhattarai, "The Seasonal Job is Getting a Makeover and, in Many Cases, a Pay Raise," The New York Times, October 13, 2020. Photo by Metropolitan Transit Authority of the State of New York.