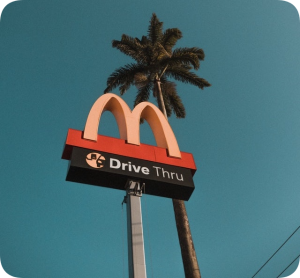 Despite being one of the largest restaurant chains in the world, McDonald's experienced a drastic drop in sales at the beginning of the pandemic just like many other businesses. Once the chain recovered from the shock of closing tens of thousands of dining rooms, though, it refocused on streamlining its drive-thru business and menu. McDonald's also struck a marketing partnership with the rapper Travis Scott for a branded meal that became a bestseller for the month that it was available across the country.
As a result, sales at McDonald's locations are more than 4 percent higher than at this point last year, a sign that the company is growing once again. The company credits much of this success to the Travis Scott promotion, McDonald's first celebrity menu item since a Michael Jordan combo that was offered around the Chicago area in 1993. "We've been pushing ourselves recently to go beyond our traditional comfort zone," said McDonald's chief U.S. marketing officer Morgan Flatley. The chain has also launched a promotional meal branded by the Colombian singer J Balvin and could launch more partnerships in the coming months. 
One of the benefits of McDonald's recent promotions is that they use celebrity star power to sell items that are already on the menu. Still, this initially caused problems as some locations ran out of ingredients like Quarter Pounder patties, shredded lettuce, and onions that were essential to make the Travis Scott meal. McDonald's eventually worked out the supply issues and now stocks up on ingredients needed for its promotional combos. 
Questions:
What are the advantages and disadvantages of celebrity partnerships like the Travis Scott's McDonald's promotion?
Do you think McDonald's should continue to partner with celebrities for promotional meals? Why or why not?
Sources: Heather Haddon and Micah Maidenberg, "McDonald's Boosts Sales With Faster Drive-Throughs and Travis Scott," The Wall Street Journal, October 8, 2020; Kelly Tyko, "McDonald's Celebrity Menu Collaboration: J Balvin Meal Available for a Limited Time, Following Travis Scott Meal," USA Today, October 5, 2020.