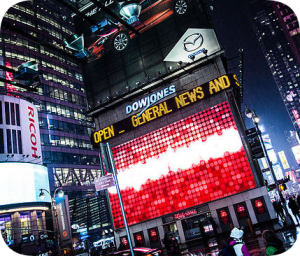 The stock market plunged in March as the coronavirus emerged in the U.S. but eventually recovered as some businesses reopened and consumers received economic relief. With cases once again on the rise, however, the combination of potential closings and a lack of another stimulus package caused the Dow to plummet by 650 points on Monday. "Financial markets are getting a reality check, as investors come to terms with the failure of Congress to agree to a pre-election stimulus package and surging covid-19 cases," said financial analyst Craig Erlam. 
Investors predict that the Dow's 2.3 percent drop could be the start of a bad week for stocks as the Commerce Department and major corporations release quarterly results in the coming days. The numbers contained in these reports are not expected to be positive and could likely cause the Dow to fall even further. "The double whammy of a stalled stimulus bill and new highs in [coronavirus] cases is a harsh reminder of the many worries that are still out there," said market strategist Ryan Detrick. "Most of the recent economic data has been strong, but when you see parts of Europe going back to rolling shutdowns, it reminds us this fight is still far from over."
As some European nations impose another round of restrictions on businesses, it's likely that American companies could soon face similar lockdown measures. In fact, Illinois recently placed a ban on indoor dining as covid-19 cases rose in every region of the state. "The covid-19 situation is worrying to investors because they are looking across the pond to Europe, where many countries are increasing stringency measures and implementing a variety of targeted lockdowns, and wondering if that is the future for the U.S. as well," said market strategist Kristina Hooper. "This suggests fiscal stimulus is needed now more than ever, but it looks like it is not forthcoming any time soon. Add to that concerns about a contested election and you have a recipe for market gyrations and sell-offs."
Questions:
Why did the Dow drop on Monday, and why could it continue to fall throughout the week?
Do you think that legislators should pass another round of economic stimulus? If so, what should be included in it?
Source: Taylor Telford and Hamza Shaban, "Dow Plunges 650 Points as Coronavirus Cases Flare Up, Stimulus Hopes Fade," The Washington Post, October 26, 2020. Photo by Angelo DeSantis.