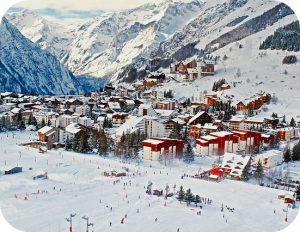 From keeping lodges toasty to powering chair lifts that must frequently scale mountains, ski resorts go through enormous amounts of energy during the winter months. Along with taking a toll on the environment, this heavy dependence on power can also be quite expensive. That's why many ski resorts throughout the country are setting up their own utility systems to produce energy efficiently and sustainably.
Colorado's Aspen Skiing Company, for instance, generates 24 million kilowatt hours of energy per year to power services on its four mountains and 2,400 homes. Vail Resorts, which has five properties located in the state, plans to be entirely dependent on renewable energy by the end of 2030. Squaw Valley in California, meanwhile, aims to achieve that goal by the end of the year. Rather than build a large, expensive grid like Aspen Skiing Company, the small resort will use batteries to collect solar power. "This is very real," said Squaw Valley CEO Andy Wirth. "This is also very affordable. So why wouldn't we take advantage of that?"
Resorts like these stand to save a bundle by either generating their own power to use or selling excess energy back to utility companies. But there's also an environmental angle to these efforts to gain energy independence. After all, winter sports companies are especially focused on keeping global temperatures steady in the coming years. "If they want to be able to survive as a ski resort, maintain the levels of snow that are critical, we have to get off of fossil fuels," said Marta Stoepker from the Sierra Club. "They [ski resorts] have a vested interest in this."
Questions:
Should companies in other industries follow the example of these ski resorts and start generating their own energy? Why or why not?
Why are winter sports companies especially concerned with environmental sustainability?
Source: Gene Marks, "More and More Ski Resorts Are Going Into the Energy Business," The Washington Post, February 15, 2018.