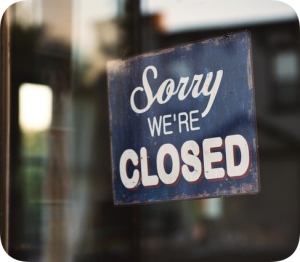 The ongoing coronavirus pandemic has caused countless restaurants and stores across the country to alter their services or close entirely, some for as long as a month so far. This stretch of downtime has been devastating for many small businesses that usually get by on week-to-week sales. At Old Town Pizza & Brewing in Portland, Oregon, owner Adam Milne had to lay off two-thirds of his staff as the brewpub transitioned into carry-out only service. In the process he racked up nearly $25,000 in credit card debt to pay for rent, utilities, and other mounting expenses. Although Milne has tried to secure a small business loan to stay afloat, he's had no success so far.
The recently passed stimulus package designated $349 billion for small business relief in the form of forgivable loans. Milne hoped that he could obtain one of these loans through Wells Fargo since he had an established relationship with the bank. But the lender did not inform Milne when it began accepting applications even though he had signed up for notifications. Then last week he learned via Twitter that Wells Fargo had already reached its $10 billion limit and had stopped taking new requests. With that option closed off, Milne contacted U.S. Bank but he has not received further clarification about whether or not they will provide him with a much-needed loan. "It's been a free-for-all," said Milne. "We desperately need these funds to keep us alive…and our employees want to come back to work." 
Milne's brewpub is far from the only small business that has struggled to secure a loan during the Covid-19 crisis. Many of the problems stem from major glitches with the Small Businesses Administration's online registration portal. "Banks have struggled to access the clunky system and the paperwork involved has changed more than once," said a Reuters report last week. As a result, some big banks like Citigroup have not started accepting applications while others have had to take their websites down for frequent updates. Borrowers have also had trouble with the SBA's service, with one business manager saying that he had to submit the application eight times before it went through. 
Questions:
Why are small businesses like Old Town Pizza & Brewing in need of immediate relief during this health crisis? 
Do you think that the federal government should provide small businesses with more help than forgivable loans? Why or why not?
Source: Tory Newmyer, "The Finance 202: Small Businesses Struggle to Secure Coronavirus Relief Amid Glitchy Loan Rollout," The Washington Post, April 7, 2020.