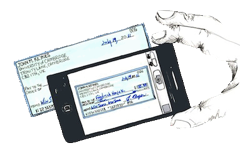 On the surface, mobile check deposits are about as convenient as banking can get. After all, one only needs to endorse the check, snap a few smartphone photos of it, and send it off to the bank through an app. No interactions with tellers or pneumatic tube machines are required— simply forward the photos and wait for the check to clear.
In some cases, however, that last step isn't so easy. Depending on the financial institution, mobile check deposits can take more than a week to post in the person's account. With Walmart's GoBank service, for instance, consumers are offered a low-cost checking account that requires either mobile or direct deposit for checks. In the case of the former option, checks deposited by smartphone can linger up to 10 business days until they are cleared. Mobile deposits also give many people the impression that they can put money in the bank at any time. Instead, most institutions have cut-off times in place in order to prevent 24-hour service. To add to the confusion, different banks have different deadlines: PNC Bank users have until 10 p.m. Eastern while Comerica Bank cuts off mobile deposits at 7 p.m.
According to the Pew Charitable Trust, many banks do a poor job of explaining the details of mobile deposits when a customer opens an account. Along with check clearing delays and cut-off times, financial institutions also fail to disclose the amount of money that an account holder can deposit over a specific time period. In fact, a person might not find out they even have a limit until they try and fail to deposit their next paycheck. As a result of all these issues, people are advised to get all the facts from their bank before they start depending on mobile deposits regularly.
Questions:
Why don't banks have standard procedures for dealing with mobile check deposits?
Why should consumer be aware of their bank's policy on mobile checking?
Source: Susan Tompor, "Know When the Check Clears with Smartphone Deposits," Detroit Free Press, January 8, 2015. Photo by: BankSimple.