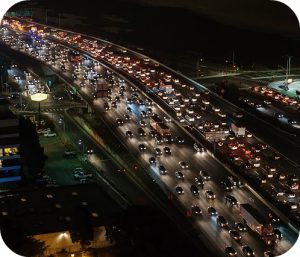 With airports and roads both packed with people, traveling during Thanksgiving week can be an unpleasant experience to say the least. And unfortunately 2017 won't be any easier on weary holiday travelers: AAA estimates that nearly 51 million Americans will journey more than 50 miles over the course of the four-day weekend. That's 1.6 million more people on the road than in 2016, a 3.3 percent increase that will make this year's Turkey Day traffic the busiest since 2005.
This represents a vast improvement over the years immediately following the 2008 financial crisis when fewer people felt they had the finances to travel. Now that the economy is on an up-turn, however, more Americans are willing to head out of town for a few days. "A strong economy and labor market are generating rising incomes and higher consumer confidence, fueling a strong year for the travel industry, which will continue into the holiday season," said AAA senior vice president Bill Sutherland. Of the 51 million Americans traveling during Thanksgiving week, more than 89 percent will be doing so by car.
Along with widespread traffic, these travelers will also have to deal with the nation's highest gas prices since 2014. Factors such as higher demand, Hurricane Harvey recovery, and Middle East unrest have raised the average price of regular gasoline to $2.56 per gallon. Nevertheless, many Americans feel confident that they can handle this added expense. "Consumers are in the best mood they've been in since the financial crisis, and that usually equates to more gasoline usage," said Phil Flynn, an analyst at Price Futures Group. "Even though you may have to pay a little more to get the turkey to grandma's house … you're feeling a little better about the economy." Meanwhile, those who plan to fly back home are enjoying the some of the lowest airfares in recent years. No matter how you get to your destination, though, be sure to do it safely and have a happy Thanksgiving!
Questions:
Why were fewer Americans willing to travel for Thanksgiving in the years following the 2008 financial crisis?
Why aren't higher gas prices discouraging more Americans from traveling for Thanksgiving this year?
Source: Zlati Meyer, "Thanksgiving Travel AAA: U.S. Weekend to Be Busiest Since 2005, Report Forecasts," USA Today, November 16, 2017.