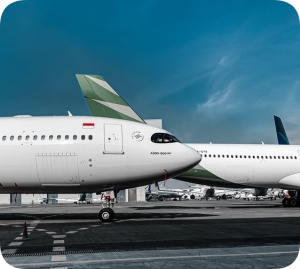 Americans traveled in droves over the busy Father's Day and Juneteenth holiday weekend, leading to widespread delays and cancellations at airports despite the best efforts of carriers. All told, airlines canceled more than 5,000 flights over the weekend while almost a third of all arriving flights on Friday were delayed. Travelers experienced similar moments of chaos at airports over Memorial Day weekend, reflecting an industry struggling to return to normal after the pandemic.
According to airlines, poor weather and high traffic volumes strained operations that were already bogged down by a lack of pilots and air traffic controllers. The situation improved on Monday as the weather eased and the number of travelers decreased after the busy weekend. Still, the previous day saw more than 900 flights canceled with over 6,000 flights delayed, with Delta Airlines experiencing the most problems. "A variety of factors continue to affect our operations, including challenges with air-traffic control, weather and unscheduled absences in some work groups," said Delta on Sunday.
The Transportation Security Administration (TSA) said that on Friday more than 2.4 million people traveled through airport security checkpoints, the same day that carriers canceled 1,100 flights by the afternoon. In an effort to reduce traffic volume, some carriers are cutting down their total flights or eliminating service to certain cities altogether. For example, yesterday American Airlines announced that it would no longer fly to Toledo, Ohio; Ithaca, N.Y.; or Islip, N.Y. after the upcoming Labor Day Weekend. American Airlines claims it does not not have enough pilots to maintain these routes, leading the company to negotiate new union contracts that increase pilots' salaries in order to retain and attract talent. 
Questions:
Why did airlines delay or cancel so many flights over the Father's Day and Juneteenth weekend?
Do you think more companies should follow the lead of American Airlines and increase pay for workers like pilots? Why or why not?
Sources: Zach Schonfeld, "American Airlines Ending Service to Three Cities Due to Pilot Shortage," Yahoo! News, June 20, 2022; Doug Cameron and Ginger Adams Otis, "Flight Cancellations and Delays Snarl Travel During Busy Holiday Weekend," The Wall Street Journal, June 20, 2022; Julianne McShane, "Holiday Weekend Sees Massive Amount of Flight Cancellations," CNBC, June 19, 2022.