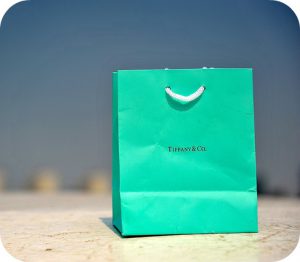 Even though November has just begun, stores across the country are already starting to roll out the tinsel and turn on the carols in preparation for the Christmas shopping season. So as the retail world gets into the yuletide spirit, you may as well do the same and start thinking about what sort of gifts your family and friends would like to receive this year. Perhaps they're the kind of people who would enjoy spinning a silver-plated yoyo? Or maybe they'd prefer a $9,000 ball of yarn, or a tin can that costs as much as the iPhone 10?
Thankfully, you'll only need to visit one store in order to cross these essential items off your shopping list. They're all part of Tiffany and Co.'s new product line called "Everyday Objects," which takes regular things and transforms them into items of elegance. For instance, that $1,000 tin can is actually made of sterling silver with an enamel accent stripe added in Tiffany's signature shade of blue. The jewelry company's $350 crazy straw is made of the same materials along with a touch of rose vermillion. These items are intended to "possess a whimsical wink that is quintessentially Tiffany," providing a kind of breakdown between the barriers of luxury and day-to-day life.
"What makes the collection unique is that it incorporates the best quality, craftsmanship and design with a level of functionality that allows you to use these things every day," said Tiffany's chief artistic officer Reed Krakoff. Some of the items are indeed practical, such as the $500 alarm clock or $425 protractor. Then there are products like the tin can that costs a grand or the ball of silver yarn, both of which could have useful purposes but are surely too expensive to be considered purely functional. After all, you could certainly play ping pong with the pair of leather and silver paddles Tiffany has on sale for $650, but who on earth would actually pay for such a thing? Nevertheless, the iconic luxury brand has no doubts it will find plenty of high-end customers who are looking for products like a $1,000 tic-tac-toe set or $375 ice cream scooper.
Questions:
Do you think there's a market for Tiffany's expensive Everyday Objects product line?
Why do luxury brands like Tiffany set such high prices for their products?
Source: Stephanie Hoi-Nga Wong, "Tiffany's Foray Into 'Everyday Objects' Includes $1,000 Tin Can," Bloomberg, November 6, 2017. Photo by FaceMePLS.