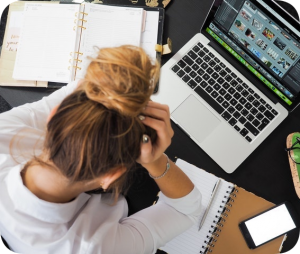 Last month, 20.5 million people lost their jobs, sending the unemployment rate skyrocketing to 14.7 percent. Economists predict that the actual jobless rate could be even worse when factoring in people who are out of work but not collecting unemployment benefits. Experts also expect that things will only get worse in May as job cuts spread to white-collar workers. "It's devastating," said Ryan Sweet of Moody's Analytics. "There's someone behind each of these numbers. It's going to take years to recover from this. There's a case to be made that a lot of these are temporary layoffs, so hopefully people can return to work quickly as we begin to reopen the economy — but there's no guarantee in that."
The current unemployment crisis has been especially difficult for women, who make up 49 percent of the workforce but 55 percent of layoffs last month. While the unemployment rate for men sits at 13.5 percent, in April the rate for women jumped to 16.2 percent. In past recessions, male unemployment has always exceeded the female rate. But the current pandemic has had the hardest impact on businesses that typically hire a lot of women. "The highest employment losses are things like restaurants and hospitality, hotels, and those are sectors with high female employment," said economist Matthias Doepke. 
Women are also more likely to take the majority of childcare responsibilities, which has become even more pronounced with schools closed down across the country. As a result, some women have quit their jobs to take care of their kids while their spouses remain employed. Single parents are in a much worse position, however, with many having no alternative but to quit their jobs. "You have 60 million single moms in the United States and many of them have no alternative child care, especially now that grandparents are not supposed to come over anymore," said Doepke. "And so for many of them, it's simply not possible to work again. So there will be forced unemployment because of child care."
Questions:
Why has the coronavirus crisis led to more job losses for men than for women?
Should the federal government provide relief to struggling parents during this crisis? Why or why not?
Sources: Danielle Kurtzleben, "Women Bear The Brunt Of Coronavirus Job Losses," NPR, May 9, 2020; Katia Dmitrieva, "Job Losses for 20.5 Million Americans Herald More Pain to Come," Bloomberg, May 8, 2020.