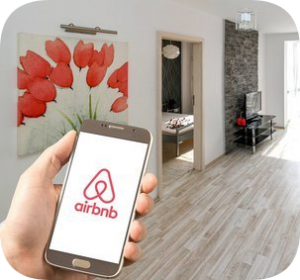 When Airbnb launched in 2008, it encouraged homeowners with extra rooms or add-on structures to rent these spaces out to travelers looking for more authentic experiences than hotels could offer. As the years went by and the startup's popularity skyrocketed, however, some Airbnb hosts developed real estate portfolios stocked with short-term rental properties. While the growing abundance of Airbnbs often increased rent for people living in cities with thriving tourist industries, many hosts simply watched as the money rolled in from their Airbnb empires. 
For example, Cheryl Dopp earned more than $8,000 per month from one Airbnb listing on the Jersey Shore, double the amount that regular tenants would pay. She owned another beach house nearby as well as a Miami property, all producing what Dopp referred to as "magical money" that she would collect month after month. But the magic ended as soon as travel restrictions related to the coronavirus became widespread. Airbnb landlords like Dopp lost more $1.5 billion in bookings as cancellations stacked up. With $22,000 in monthly expenses from her Airbnb portfolio and no money coming in, Dopp now says that she "made a bargain with the devil."
Airbnb provided guests with full refunds when they canceled in mid-March but provided no such relief to hosts. While the startup has lost hundreds of millions of dollars during the pandemic, many Airbnb owners have had to dip heavily into their savings to stay afloat. According to some experts, these would-be real estate moguls should have been aware of the risks before they assembled large portfolios of short term rentals. "Hosts should've always been prepared for this income to go away," said Gina Marotta of the credit-risk analysis firm Argentia Group. "Instead, they built an expensive lifestyle feeding off of it."
Questions:
How has the ongoing pandemic affected Airbnb owners like Cheryl Dopp?
Do you think Airbnb should provide its hosts with some sort of relief? Why or why not?
Source: Tripp Mickle and Preetika Rana, "'A Bargain With the Devil'—Bill Comes Due for Overextended Airbnb Hosts," The Wall Street Journal, April 28, 2020.