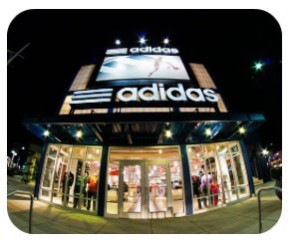 In 2015 the future was looking bleak for Adidas. The Germany-based apparel company had experienced years of declining sales as they lost market share to Nike's growing dominance. A new batch of competitors like Under Armour and Skechers took their toll as well, causing Adidas to lose its position as the world's second most popular seller of sportswear and footwear.
But just as analysts began to write off Adidas as a dying brand, the company set off on a major turnaround. Executives established a creative partnership with Kanye West to create Yeezy sneakers, which quickly grew into one of the most exclusive shoe brands in the world. Adidas also struck gold with new product lines like the running-focused Boost. These changes strengthened the company's image as well as its bottom line, allowing Adidas to push past Nike's spun-off Jordan brand to reclaim their spot as the planet's number two sneaker seller. "This is an achievement I never thought I would see in my lifetime," said Matt Powell of the market-research firm NPD Group. "I've never seen a brand in the sneaker industry grow this fast."
Of course, with 37 percent market share Nike remains the undisputed king of sneakers. That number is down by 2 percent since the beginning of the year, though, leading some to believe that the company might be prime for a decline. Two years ago Nike spun off its Jordan brand into a separate operation that placed the famous "Jumpman" logo on all sorts of products. Experts fear that this expansion devalued Jordan's carefully cultivated branding. "Nike let the Jordan business get overheated, which slowed down the liquidations," said Powell. "The sentiment on Twitter is that Jordan is not cool anymore, which is overblown. But there is no question that retro Jordans [are] not selling out immediately like they used to."
Questions:
How did Adidas rebuild its brand to become the world's number two sneaker seller?
Do you think Nike has devalued its Jordan brand by placing the "Jumpman" logo on too many products?
Source: Des Bieler, "Surging Adidas Overtakes Jordan Brand for No. 2 Spot Behind Nike in U.S. Sneaker Sales," The Washington Post, September 19, 2017.