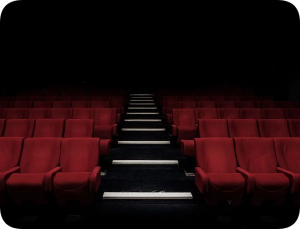 For months, movie theaters around the country have sat empty as Americans remained in their homes to curb the spread of coronavirus. With many businesses now gradually reopening, though, last week the nation's largest film exhibitors also announced their plans for returning. AMC Theatres, for instance, will reopen by July 15th with a number of precautionary measures in place. Along with filling theaters to a maximum capacity of 30 percent, the company will also use advanced cleaning technology such as electrostatic sprayers and HEPA vacuums to disinfect every seat between showings.
But while AMC outlined a number of new safety procedures in its announcement, the company grabbed the most attention for its decision to not require masks for any patrons. "We did not want to be drawn into a political controversy," said AMC CEO Adam Aron. "We thought it might be counterproductive if we forced mask wearing on those people who believe strongly that it is not necessary." If the company had wanted to avoid controversy, however, it failed spectacularly on that count. Thousands of social media users blasted AMC for failing to fully protect customers and told the company that they would be sticking with their home theaters for the time being. 
AMC ultimately decided to reverse course after enduring an onslaught of online criticism. "This announcement prompted an intense and immediate outcry from our customers," said Aron in a press release. "It is clear from this response that we did not go far enough on the usage of masks." Regal Cinemas released a similar statement announcing that it would also require customers to wear masks in order to enter any theater when the company reopens in July. Both chains plan to gradually increase capacity at their theaters, but only time will tell if customers will be willing to return to the movies.
Questions:
How did AMC anger social media users when it announced its new safety measures for reopening?
Would you go to a movie at an AMC theater when the company reopens in a few weeks? Why or why not?
Sources: Bret Lang, "AMC Theatres Unveils Plans to Reopen During Coronavirus," Variety, June 18, 2020; Jason Slotkin, "AMC Theatres Will Now Require Guests To Wear Masks When It Reopens," NPR, June 19, 2020.