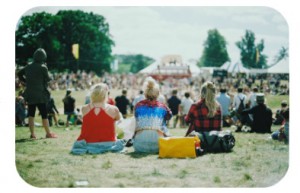 For many attendees of today's big music festivals, enjoying an interesting atmosphere is often just as important as watching what's happening on stage. After all, these events don't happen in a vacuum: festivals like Coachella are endlessly documented through Instagram and other social media platforms. From the fancy food trucks to famous people casually milling about the crowd, music festivals offer no shortage of material to liven up anyone's feed.
Last weekend's Fyre Festival promised to be the most Instagrammable event of them all. Advertisements claimed the festival would be held on a private island in the Bahamas featuring luxury accommodations, gourmet chefs, and all-star musical acts. Supermodels promoted the event on their social media pages and promised people that they would be going to paradise. Of course, this once in a lifetime festival would not be cheap. Tickets started at $4,000 and went all the way up to $250,000 for the ultra VIP treatment. Organizers stood by their high prices and claimed that attendees would have a "transformative experience" on the island.
And that's certainly what happened, only not in the way that the festival had promised. Attendees immediately started having second thoughts when they arrived on the Bahamian island of Exuma. Rather than being transported to the private island from there, festival goers were herded onto a strip of beach located next to a Sandals resort. Almost nothing had been set up for the event, their "luxury accommodations" were old disaster relief tents, and the only food they received was two slices of cheese on untoasted bread. The crowd turned their frustrations on the small staff, eventually leading to clashes between festival goers and security guards. By nightfall Fyre Festival had descended into chaos as musical acts started to cancel and attendees demanded to go home.

But leaving the event turned out to be a disaster, too. The airport on Exuma wasn't equipped to send off so many people at once, forcing many to wait hours before they could get on a plane. Meanwhile, stories about the horrors of Fyre Festival began to go viral on social media. With pressure mounting both from an angry public and extremely unsatisfied customers, the event's organizers promised that everyone would receive refunds. That's the least of their problems, though: a group of attendees filed a $100 million class-action lawsuit against the festival for allowing this disaster to occur. Remarkably, organizers are still planning to hold another Fyre Festival in 2018.
Questions:
Should the organizers of Fyre Festival receive criminal charges for their negligence?
What sort of false claims did the Fyre Festival organizers make when marketing their event? Should they be punished for false advertising?
Source: Amy Zimmerman, "Inside Ja Rule's Fyre Festival Disaster: How the Luxury Music Fest Became 'Lord of the Flies,'" The Daily Beast, April 28, 2017.