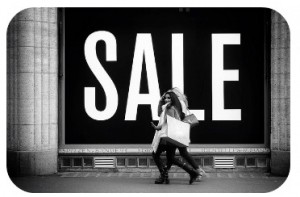 This past weekend the holiday shopping season kicked off with a bang as millions of Americans sought out Black Friday deals both in stores and online. While brick and mortar sales rose about 8 percent from last year, online outlets saw sales increase by 11 percent. According to the National Retail Federation (NRF), this spike in e-commerce can be credited to the more than 108 million consumers who shopped online over the weekend. Meanwhile, approximately 99 million people visited physical stores, with 75 percent of them doing so on Black Friday itself.
On average these consumers spent about $289 per person over the course of the four-day weekend. But while this represents a hefty haul for retailers, it's still a dropoff from 2015's Black Friday shoppers who spent an average of $300. According to experts, stores offer so many deep discounts these days that smartphone-enabled consumers have become skilled at seeking them all out. As a result, they end up buying more products but spending less. "While crowds were strong, we believe that most consumers at this early stage responded solely to promotions, especially at lower- and middle-tier retailers," said analysts at the financial firm BTIG.
The NRF's survey confirms this suspicion: 36 percent of shoppers said all the products they bought were on sale and nearly two-thirds responded that the bulk of their Black Friday hauls had been discounted. Nevertheless, this same study predicts that overall sales during the holiday season will rise by about 4 percent as shoppers continue to seek out deals. "Consumers know they can get good deals throughout the season and these opportunities are not a one-day or one-weekend phenomenon and that has showed up in shopping plans," said NRF CEO Matt Shay.
Questions:
Will e-commerce sales during Black Friday weekend continue to rise in comparison to sales at physical stores?
What are the upsides and downsides for stores when they offer deep discounts during Black Friday weekend?
Sources: Phil Wahba, "Black Friday Shoppers Are More Hooked on Discounts Than Ever," Fortune, November 28, 2016; Anne D'innocenzio, "First Data: Thanksgiving, Black Friday Sales up 9 Percent," ABC News, November 29, 2016. Photo by Thomas8047.