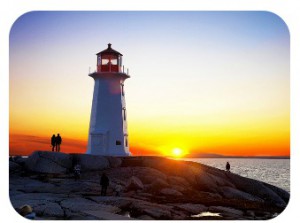 The remote region of Cape Breton in Nova Scotia, Canada, is not known for its bustling population. Just 130,000 people live on the 4,000 square-mile island, with 1,000 others leaving each year for the past two decades. As the population steadily drops, many Cape Breton natives have worried about the future of the island's tight knit communities. Among these concerned citizens was Jim and Ferne Austin, local entrepreneurs who operated the Farmer's Daughter Country Market in sleepy Whycocomagh, Nova Scotia, since 1992.
Ready to retire, the Austins recently handed down ownership of the store to their two daughters. But before they could easily take on day-to-day operations, the pair first had to solve some major personnel problems. By the end of summer three full-time employees had left Farmer's Daughter, an enormous loss that especially hurt the bakery side of the business. The new owners tried hiring locally but couldn't find any qualified individuals up to the task. An attempt to attract foreign workers also failed due to a confusing visa application process. Finally, the daughters of Farmer's Daughter came up with a last-ditch solution: offer a plot of their father's land to any out-of-towners interested in working at the store.
Their proposal appeared as a simple 500-word Facebook post on the store's page. Titled "Beautiful Island Needs People," the owners offered a job, a community, and three acres of land to anyone willing to work at Farmer's Daughter for five years. By the next morning the post had been shared more than 200 times. A local radio station soon reached out for comment, followed by national television reporters within a few more hours. The store's story eventually became the most read article of the day on the Canadian Broadcasting Corporation's website, leading to a flood of more than 50,000 interested responders. By that time, however, the owners of Farmer's Daughter had already made their decision. They chose three families who not only wanted a job and land but also the deep sense of community that came with living in a remote place like Cape Breton. "That's what spoke to me," said Brett Walkins, one of the store's new hires. "To be welcomed into what we could tell was a close-knit family."
Questions:
Besides your salary, what other factors are important to consider when you pursue a new job?
What can other companies located in remote regions learn from the hiring strategy at Farmer's Daughter?
Source: Craig S. Smith, "A Remote Job Comes with Free Land and a Sense of Community. 50,000 Apply," The New York Times, October 20, 2016. Photo by Paul Bica.