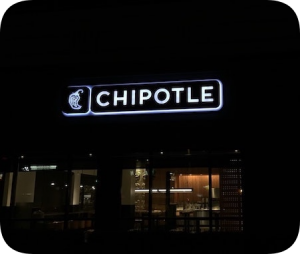 Since the start of the pandemic, takeout and delivery orders have taken on outsized importance at restaurants that have been unable to open to full capacity. As a result, some companies are investing in "ghost kitchens" that focus solely on pickup and delivery orders. For instance, last week Chipotle opened its first Digital Kitchen in New York, a location with no dining room that is largely closed off to walk-in customers.
"The Digital Kitchen incorporates innovative features that will complement our rapidly growing digital business, while delivering a convenient and frictionless experience for our guests," said Chipotle's chief technology officer Curt Garner. "With digital sales tripling year over year last quarter, consumers are demanding more digital access than ever before." Customers can pick up their order from Chipotle Digital Kitchen at a window but they must first order either through the chain's website or its app. 
There are approximately 1,500 ghost kitchens currently in operation in the U.S., but experts expect that number will increase significantly in the coming years. According to one report, by 2030 the ghost kitchen market could be worth more than $1 trillion. Food delivery in general could be worth $24 billion in a few years, providing a potential lifeline to restaurants during the remainder of the pandemic. 
Questions:
Why are chains like Chipotle investing in ghost kitchens?
Why do experts expect the ghost kitchen market to expand significantly in long term? 
Source: Taylor Telford, "Chipotle Leans Into Burritos to Go With First Digital-Only Restaurant," The Washington Post, November 11, 2020.