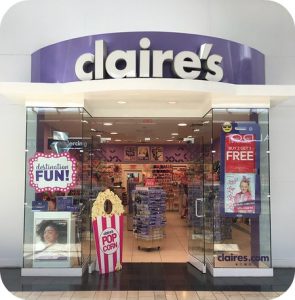 The last few years have not been good for Claire's, the mall-based retailer known for its adolescent-focused cosmetics and accessories. In early 2018 the company filed for Chapter 11 bankruptcy protection after it accrued more than $2 billion in debt. Although Claire's eventually emerged from bankruptcy, the end of the year also brought an unwelcome announcement from the Food and Drug Administration (FDA). According to the federal agency, Claire's had been under investigation since 2017 for "high levels of asbestos" found in at least three of its products.
While the retailer initially challenged the FDA's findings, three months later Claire's issued a voluntary recall of the offending cosmetics. But the retailer's problems haven't stopped there: last week Claire's recalled two more items for containing potentially dangerous amounts of asbestos. One of these products was a makeup set branded by JoJo Siwa, a pop star who is extremely popular with young girls. This high-profile connection led to all sorts of bad press for Claire's as it attempted to minimize the damage.
"Claire's Stores, Inc. has voluntarily recalled the JoJo Cosmetic Kit out of an abundance of caution after testing by the U.S. Food and Drug Administration indicated the possible presence of trace amounts of asbestos fibers," said the company in a statement. "Claire's stands behind the safety of this item and all other Claire's cosmetic items, as such small trace amounts are considered acceptable under European and Canadian cosmetic safety regulations." According to the World Health Organization, however, there is no safe level of asbestos exposure. Only time will tell if Clarie's unwillingness to be completely transparent about this situation will hurt the already struggling retailer in the long term.
Questions:
How will this series of recalls affect Claire's reputation among consumers?
Do you think Claire's should be completely transparent with both regulators and the public about the potential presence of asbestos in their products?
Sources: Kate Gibson, "FDA Finds Asbestos in More Cosmetics From Claire's Stores and Beauty Plus Global," CBS News, June 7, 2019; Lindsay Lowe, "Claire's Makeup Tests Positive For Asbestos. Here's What You Need To Know," HuffPost, June 10, 2019. Photo by Phillip Pessar.