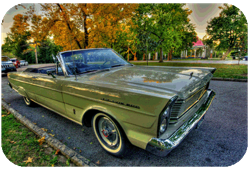 As recently as the early 2000s, the stereotypical image of the corporate careerist typically included a flashy convertible jetting down the highway with a set of expensive golf clubs stashed in the trunk. Nowadays, though, these once weighty symbols of wealth and status have plummeted in popularity. Instead of a cherry red Corvette, modern executives and ladder climbers would prefer to cruise to their next meeting in a big SUV. And thanks to smartphones, the golf links aren't the same havens for networking that they once were.
Global convertible sales reached their peak in 2004 and have fallen 44 percent since then. Last year automakers sold fewer than 500,000 convertibles, accounting for just 0.7 percent of worldwide car sales. In the U.S. and Europe, models that provide comfort and convenience have become far more popular while the convertible's social status faded. The situation is just as bleak in China and India, where consumers prefer to drive enclosed SUVs and sedans that keep out the smog and the din of the streets. As a result, carmakers around the world are dropping open-top vehicles from their production lines.
Meanwhile, the National Golf Foundation estimates that 400,000 people left the sport last year. The severe winter delayed the start of the season for many, especially on the East Coast. But thousands more have turned their back on the game out of simple disinterest. After all, golf is an expensive and time-consuming sport. This makes it especially unappealing to young people who would rather make professional connections through their social networks than by getting in some swings on the driving range. What's more, golf's association with luxury living hurts its image in this rough economy. "It's something that's associated with boom times," said trends expert Gerald Celente. "Most of society's not moving up, and golf is associated with moving up." As a result, both golf brands and sporting goods retailers have seen sales dry up over the last year. Nevertheless, optimists hope that growing Asian interest in golf will soon be able to offset any ground the sport loses in the U.S.
Questions:
What's the primary reason why convertible sales have fallen dramatically?
If the economy rebounds and expands, will golf's fortunes change?
Source: Lindsey Rupp and Lauren Coleman-Lochner, "Golf Market Stuck in Bunker as Thousands Leave the Sport," Bloomberg, May 22, 2014; Chris Reiter, "Convertible Car Sales Have Plunged as Image of Freedom and Fun Dims," Bloomberg BusinessWeek, April 10, 2014. Photo by Tim Hamilton.