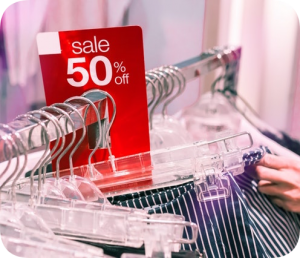 The last couple of years have not been kind to brick-and-mortar retailers: since 2017 more than 50 companies have gone bankrupt and 21,000 locations have closed across the country. Instead of heading out to stores, many modern consumers now depend on Amazon for their shopping needs. Along with providing convenience, the e-commerce giant also offers everyday low prices as well as major sales events like Prime Day. In response, many traditional retailers have started offering deep discounts in an effort to win back customers. 
For example, one recent study found an 18 percent increase in sales and promotions by North American retailers during the two-week period around this year's Prime Day. What's more, the value of markdowns increased by a staggering 71 percent. That means a product that had a 20 percent discount last year would now be 35 percent off. While these promotions bring more customers in to stores, the ever-increasing markdowns cut into retailers' already thin profit margins. Companies often turn to discounts as a way to offload immense amounts of unsold holiday season stock. But not only does this shrink profits, it also leads to increased marketing costs and higher return rates. In fact, holiday season returns increased by 26 percent in the three weeks after Christmas in 2018.
Analysts fear that these factors could lead to a "retail vortex" where increased discounts and diminished profits cause retailers to slowly collapse. "It's a tough environment, and it's getting tougher every year," said John Squire, CEO of the retail software firm DynamicAction. "Any decline in profitability has an overwhelming effect on retailers that are already struggling to hit their bottom-line numbers." Although experts estimate that holiday season spending will increase by 4 percent this year, American retail spending overall has decreased in recent months. As a result, the investment bank UBS predicts that an additional 75,000 stores will shut down by 2026.
Questions:
Why are brick-and-mortar retailers struggling to bring in customers?
What are the advantages and disadvantages of offering customers deep discounts and markdowns?
Source: Abha Bhattarai, "'Retail Vortex': How Deepening Discounts and Thinning Profit Margins Could Take Their Toll This Holiday Season," The Washington Post, October 22, 2019.