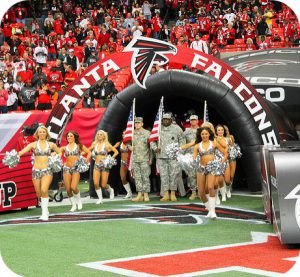 Last night, the NFL kicked off its new season with a battle of the birds as the Atlanta Falcons fell to the Philadelphia Eagles. But while Atlanta couldn't earn a victory on the field, the franchise is certainly a winner in the eyes of many budget-minded fans. That's because in 2017 the Falcons announced it would make some big changes to concession prices after the grand opening of the Mercedes-Benz Stadium. Rather than follow the industry's lead and overcharge customers for refreshments, the organization developed a system called "fan-first pricing" that keeps prices low for simple snacks and beverages.
For instance, Falcons fans can purchase a refillable soda for just $2, the same price as a hot dog, pretzel or popcorn. Waffle fries and nachos cost $3 apiece, while a Bud Light runs for $5. And yes, these prices include tax. Customers can also purchase premium items at in-stadium restaurants like Gamechanger, an establishment owned by former Top Chef contestant Kevin Gillespie. Everywhere else in the arena, though, concession prices fell by 50 percent. Representatives from the team say that the changes encouraged fans to spend 16 percent more during their visit. On top of that, by the end of the season the Mercedes-Benz Stadium shot to the number one spot in the NFL in terms of food quality. "There's a huge value in delighting your fan base, to make them as happy as they could possibly be," said Steve Cannon, CEO of the holding company that owns the Falcons. "We started with one of the biggest pain points and it paid off."
The conventional wisdom at sports stadiums has long been to raise refreshment prices as high as possible in order to maximize profits. Franchises like the Falcons are challenging this way of thinking, though. Along with encouraging customers to spend more at snack stands, lowering concession prices also tends to bring fans into the stadium earlier. Not only does this reduce the length of security lines before the game, it also allows fans more time to browse through souvenirs. In fact, the Falcons say that merchandise sales increased 90 percent from 2016 to 2017 following the move to the Mercedes-Benz Stadium. Other NFL franchises such as the Baltimore Ravens and Detroit Lions are following Atlanta's lead by instituting their own fan-first pricing schemes. If it proves popular at these stadiums, experts expect that other teams throughout professional sports will adopt the concept as well.
Questions:
What are the advantages and disadvantages of fan-first pricing?
Do you think more professional sports teams will adopt fan-first pricing? Why or why not?
Sources: Patrick Rishe, "Atlanta Falcons' 'Fan-First Pricing' Model Yields Numerous Unforeseen Benefits," Forbes, June 26, 2018; Darren Rovell, "Hot Dog! Falcons Drop Concession Prices, Make More Money," ESPN, January 25, 2018; Chris Fuhrmeister, "Stadium Food Is Suddenly Getting Cheaper," Eater, August 29, 2018. Photo by Georgia National Guard.