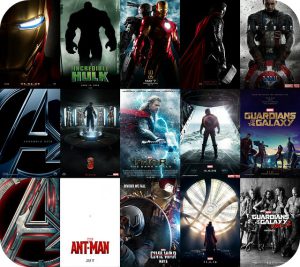 This weekend Marvel released Avengers: Endgame, the final installment of the original "Cinematic Universe" that the company built across 22 films over the last decade. Perhaps the most anticipated movie of the year, millions of people all over the world flocked to theaters to watch the conclusion to this massive franchise. In fact, this weekend Avengers: Endgame rocketed to the No. 1 box office spot in 54 countries as it earned $1.2 billion worldwide. The movie brought in $350 million from the U.S. alone, smashing the opening-weekend sales record previously set by Star Wars: The Force Awakens.
And while fans found plenty to love about Avengers: Endgame, perhaps no one is happier about this blockbuster than movie theater owners. Over the last few years the industry has struggled to compete with streaming services like Netflix and Hulu that can bring the multiplex straight to customers' homes. When it comes to big action movies, though, there's just no replacement for the theater experience. For instance, demand to see Avengers: Endgame was so great that AMC Theaters had to add 5,000 last-minute screenings, bringing its weekend total to more than 63,000. On Saturday alone, the company sold more than 2.3 million tickets. "It shows the power of theaters — the ability, even in a hyper-fragmented culture, to deliver that wildly big communal experience," said Megan Colligan, president of Imax Filmed Entertainment.
Still, some industry insiders fear that big tentpole franchises like Avengers or Star Wars won't be enough to sustain movie theaters in the long run. Although these films attract huge audiences and earn billions of dollars, theaters struggle to keep seats filled in between the release of these massive blockbusters. As recently as 20 years ago, theaters and movie studios earned just as much multiplex money from comedies and dramas as they did from action titles. With so many movies now available through streaming services, however, consumers aren't as willing to head to theaters unless it's for big events like Avengers: Endgame. Filmmakers as prominent as Steven Spielberg worry that this could lead to a future where theaters only show major action titles, making everything else available only on streaming platforms.
Questions:
Why do you think audiences flock to movie theaters to see big action titles like Avengers: Endgame?
Why do industry insiders worry that major franchises like Avengers or Star Wars won't be enough to sustain movie theaters in the long run?
Source: Brooks Barnes, "'Avengers: Endgame' Shows Movie Theaters Can Still Be on Top of the World," The New York Times, April 28, 2019. Photo by AntMan3001.