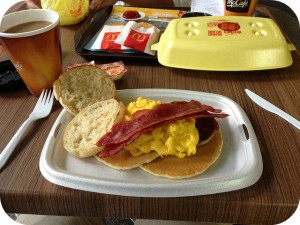 After enjoying decades of almost constant growth, the last few years have seen many fast food chains become stuck in a sales rut. Not only have consumer tastes changed dramatically, but people also have an array of affordable dining options to choose from. This increased competition has left the industry scrambling for ideas. Taco Bell took action in 2014 by introducing a breakfast menu, a move that some at the time viewed as unappetizing and desperate. The gamble worked, however, and now breakfast items account for 6 percent of Taco Bell's total sales.
Last week the chain announced plans to build on this early success by unveiling a new ten-item dollar breakfast menu. Company representatives say that they are responding to the demands of customers who are more interested in cheap, simple offerings rather than gimmick products like waffle tacos. Still, industry insiders suspect Taco Bell could be reacting to the expanded breakfast operations of its rivals. McDonald's, for instance, catered similarly to its customers' desires last year by instituting a limited all-day breakfast menu. While the promotion got off to a rocky start, it has ultimately boosted sales and even negatively affected the performance of competitors like Jack in the Box and Dunkin' Donuts.
In both cases, McDonald's and Taco Bell are benefitting from fast food's core strengths: value and convenience. What's more, the two chains are also taking advantage of an interesting aspect of their customers' changing tastes. Today's consumers largely try to avoid eating high-carbohydrate breakfasts, opting instead for meals that are rich in protein. Although this is bad news for cereal companies, it's been a blessing for fast food chains that sling sausage and bacon. In fact, McDonald's is currently testing an expanded all-day breakfast menu in two markets. If this pilot program succeeds, chains like Taco Bell might consider offering their breakfast menu throughout the day. After all, few fast food chains like to see a competitor offer a more convenient service than they do.
Questions:
Will the success of McDonald's all day breakfast last? What was the advantage of keeping breakfast items restricted to the morning?
How else can fast food chains appeal to the changing tastes of today's consumer?
Sources: Julie Jargon, "In Fast-Food Battle, Breakfast Becomes Most Important Meal of the Day," The Wall Street Journal, March 10, 2016; Chris Fuhrmeister, "McDonald's All-Day Breakfast Is Taking a Toll on Competitors," Eater, February 19, 2016. Photo by: Kai Hendry.