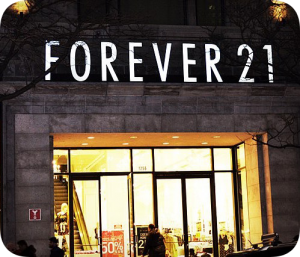 From free finger food at Costo to complimentary mini-sized makeup at Sephora, companies have long depended on free samples as a powerful promotional tool. But as the clothing retailer Forever 21 recently learned, this time-tested strategy can backfire when paired with the wrong type of product. 
Forever 21 routinely includes sample items when shipping out orders to its customer base of young women. Last week one of those products was a free Atkins-branded lemon granola bar that encouraged customers to "live a low carb lifestyle." Although Forever 21 included the bars in all orders, some women felt insulted by the promotion and took to social media to criticize the company. "There were no notes at all, just the pre-packaged sample," said customer Kate Ravioli. "I felt disgusted when I opened it, as if some sort of sick joke was being played on me. As someone who struggles with depression and have had a past riddled with disordered eating, this was the last thing I wanted to see along with my order."
News about this "fat phobic" gift soon spread throughout social media, which prompted a quick response from Forever 21. "The freebie items in question were included in all online orders, across all sizes and categories, for a limited time and have since been removed," said the retailer in a statement. "This was an oversight on our part and we sincerely apologize for any offense this may have caused to our customers, as this was not our intention in any way." Still, this explanation might not be enough to win back customers like Ravioli: "It's really frustrating because they do make cute clothes for plus sized bodies, but they've made it very clear that we don't matter beyond our wallets."
Questions:
How can companies like Forever 21 prevent marketing miscommunications like this one in the future? 
Do you think Forever 21's granola bar scandal will harm the company's reputation in the long term? Why or why not?
Sources: Jaya Saxena, "Teen Favorite Forever 21 Under Fire for Including Atkins Diet Bars With Orders," Eater, July 23, 2019; Caitlin O'Kane, "Customers Outraged After Forever 21 Included Diet Bars in Their Clothing Orders," CBS News, July 24, 2019. Photo by Bargainmoose.