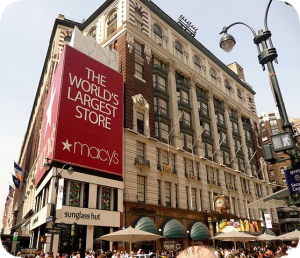 For many years, shoppers flocked to destinations like Madison Avenue in Manhattan and Chicago's Magnificent Mile to experience the best that American retail had to offer. Home to flagship locations from Macy's, Barneys and many others, these enormous stores acted as potent marketing tools as much as places to buy products. The rise of online shopping changed all that, however, causing multi-floor department stores to lose their appeal. 
As a result, many top retailers are closing the doors on their flagship locations. Over the last year, Madison Avenue has lost iconic stores from Gap, Tommy Hilfiger, and Ralph Lauren. Even the 10-story Manhattan institution Barneys is at risk of shuttering. Meanwhile, Abercrombie announced it would close a New York flagship along with major locations in Italy and Japan. Altogether, the world's most prominent shopping destinations lost 353,000 square feet of retail space last year. Besides the increased competition from e-commerce outlets, companies also face sky-high rents that are likely to keep going up. 
Still, some retailers are looking to change the concept of flagship stores rather than close them completely. For instance, in late 2018 Nike opened a huge location on Manhattan's Fifth Avenue that has no cash registers. Instead, customers explore the showroom and scan a QR code when they find something interesting. Any items they scan are then sent to a fitting room or a designated spot for pickup. Meanwhile, the new Levi's flagship in Times Square features expanded dressing rooms as well as tailors who can trim jeans or add patches. Experts say these experience-focused concepts offer more to today's consumers than the shopping palaces of the past. "I don't think you have a need for these massive stores," said retail consultant Stacey Widlitz. "Shoppers are shopping completely differently. You don't need a full assortment. They have to become an experience, letting customers get to know who you are versus selling stuff." 
Questions:
Why are some retailers closing their flagship locations in prominent shopping areas?
Why are Nike and Levi's focusing more on customer experience rather than providing a huge assortment of products at their flagship locations? 
Source: Anne D'Innocenzio, "Once a Shrine to a Retailer's Brand, 'Flagships' Lose Luster," Associated Press, August 1, 2019. Photo by Mike Strand.