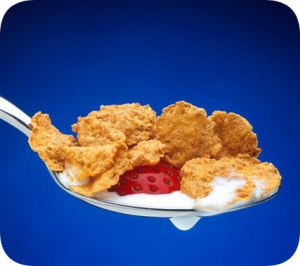 Although the food conglomerate Kellogg might be best known for cereal brands like Rice Krispies and Frosted Flakes, the company also controls other big names such as Eggo waffles, Pringles, and Cheez-It. Managing such a wide portfolio of successful brands is no simple task, though, as departments must often compete with one another for attention and resources. Then there are the unique requirements for each market: for instance, cereals have different marketing and packaging needs than Kellogg's snack brands.
Given the unwieldy nature of this multi-billion dollar business, last week Kellogg announced that it would soon split into three independent companies. This corporate overhaul will allow Kellogg to simplify its structure as it focuses on the specific needs of each department and brand. "(Cereals) will not have to compete for resources against a high-growth snacking business. Frosted Flakes does not have to compete with Pringles for resources," said CEO Steve Cahillane. The largest company in Kellogg's new system will focus on global snack sales while another handles North American cereals and a smaller firm oversees plant-based brands. 
Kellogg's snack business has grown significantly in recent years, driven by brands like Pop-Tarts and Rice Krispies Treats. As a result, the company gave priority to matters related to the snack division, with breakfast cereals receiving less attention as their sales declined. By breaking up its business into separate entities, Kellogg will be able to grant different departments the resources they need to thrive. "It is splitting now to take advantage of growth opportunities as economies slow and new growth is hard to find in all aspects of the business," said Randy Allen of the Cornell College of Business. "Their snack business is more globally focused and has more growth potential."
Questions:
What are the advantages and disadvantages of operating a large conglomerate like Kellogg?
How will splitting into separate operations allow Kellogg to focus on building its global snack business?
Source: Praveen Paramasivam & Mehr Bedi, "Kellogg to Focus on Snacks With Surprise Three-Way Split," Reuters, June 21, 2022.