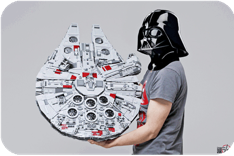 When it comes to entertainment, kids today have more options than ever before. Increasingly, though, they'll opt to play a game on a mobile device like a smartphone or iPad. This is bad news for toy makers, who have watched a large amount of their market share shift to gadgets. Except for Lego, that is. The Danish stackable bricks brand reached a low point in 2003 after experimenting with the design of some of its products. Since then, Lego's focus on licensed entertainment properties has catapulted it to unprecedented success, leading to a string of other media such as video games and a Hollywood movie.
The company began incorporating characters like Darth Vader and Batman into Lego playsets in 1999, but the costs associated with licensing popular properties made the company wary about depending on them too much. The first wave of gadgets that hit store shelves in the early 2000s caused Lego to change its tune, however. Along with an increase in licensed characters, the company also came up with a brilliant model for distributing its products. Each year, Lego retires some old play sets in order to bring in new ones. This creates a scarcity that makes Lego's products seem more desirable. These new lines make up roughly 60 percent of the company's annual consumer sales.
All told, Lego earned a $969 million profit last year from of revenue of $4 billion. This 24 percent increase in sales was enough to push it past Hasbro to become the second largest toymaker in the world. With so many different products available, Lego fans would have to pay some serious cash if they wanted a complete collection of a particular property's sets. While Lego's Lord of the Rings line totals out at $1,303, a full serving of all the Star Wars sets offered would cost more than $14,000. Then again, if someone wanted to see all these characters in action and Lego-fied, they can always go the cheaper route and pick up a DVD of The Lego Movie. Released in February 2014, this animated caper was a hit with both audiences and critics, ensuring that Lego's brand will remain strong for years to come.
Questions:
Why did the retirement of specific Lego play sets help spark demand?
What's the major advantage of Lego's licensing strategy?
Source: Elise Craig, "How Lego Licensed the Universe, and Ended Up Ruling Us All," Wired, February 6, 2014; Felix Gillette, "Lego Goes to Hollywood," Bloomberg BusinessWeek, February 5, 2014. Photo by Do-Huyn Kim.