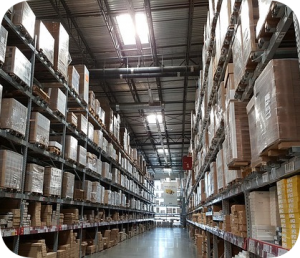 With Halloween done and the pet costumes put into storage, retailers across the country are now preparing for a surge of holiday sales that will arrive at the end of the month. During this vital sales period, companies can see their online orders grow tenfold as consumers grab all sorts of items for the holidays. As a result, many retailers and logistics firms bring on seasonal workers to provide additional assistance for this busy period. 
Along with hiring lots of people to stuff packages and fulfill orders, a number of companies are also turning to temporary fleets of robots that can collaborate with their human colleagues. Using cameras and sensors, these "cobots" maneuver through enormous warehouses transporting products and leading workers to the correct shelves. Many of these automated assistants are leased through companies like Locus Robotics, which has already shipped more than 500 robots to its e-commerce and logistics clients. "We are seeing customers taking delivery earlier, and keeping the bots longer," said Rick Faulk, CEO of the Massachusetts-based company. 
For instance, the French logistics firm Geodis SA has brought in 281 Locus robots as well as approximately 7,000 human workers to its U.S. warehouses for the holiday season. Meanwhile, XPO Logistics is hiring more than 20,000 temporary employees for this year's rush and spending millions more on robotic technology. "It's a strategy for holiday peak that worked so well in 2018 that we've ramped it up this year and bought 30% more," said XPO president Troy Cooper. Although other companies are making similar investments, only firms that have automated systems currently in place are bringing on seasonal robotic labor. "Nobody is changing their operations the day before peak," said Lior Elazary, CEO of inVia Robotics. But while only 3 percent of global warehouses will use robotic labor this year, experts predict that number will increase to more than 27 percent by 2025. 
Questions:
Why do retailers and logistics companies bring in temporary workers during the holiday season?
Do you think temporary warehouse workers could one day be replaced by robotic labor? Why or why not?
Source: Jennifer Smith, "'Tis the Season for Surge Robots as Holiday Hiring Finds Automation," The New York Times, October 28, 2019.