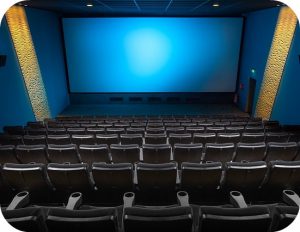 Much like the retail industry, Hollywood studios did not particularly enjoy 2017. Ticket sales at the nation's cineplexes fell by an estimated 4 percent, representing the movie business's lowest attendance in 22 years. What's more, experts say those numbers would have been even worse without the help of December blockbusters like the new Star Wars and Jumanji films. But as sales at the traditional box office fell last year, business began booming for the subscription-based ticket service MoviePass.
For a monthly fee, MoviePass members can watch up to one film per day at most cineplexes located throughout the country. First, subscribers receive a kind of debit card upon signing up. When they want to see a movie, they check in at the theater of their choice using the MoviePass app. The company then transfers the full cost of the ticket to the member's card, allowing them to pay at the box office. Moviegoers immediately took interest in the concept when MoviePass launched in 2011, but its $50 per month price tag proved to be too steep for many people. Although the cost eventually dropped to $35, the company could only attract about 20,000 customers by early 2017.
Then in August, MoviePass slashed its subscription rate to just $9.95 per month. Movie theater chains bristled at the news: "Not welcome here," read a statement released by AMC Entertainment that also included threats of legal action. Moviegoers felt differently, however. By the end of December, MoviePass announced that it had attracted more than one million subscribers. Despite its growing popularity with audiences, though, the concept still hasn't won the hearts of theater owners. They fear that MoviePass will eventually go bankrupt by paying for so many tickets, thus damaging consumers' faith in an already fragile industry. But that doesn't seem to worry MoviePass, which has said it plans to make up for this revenue shortfall by selling data about customer tastes to studios.
Questions:
Do you think MoviePass benefits movie theaters, or is the company's business model a threat to the industry?
Is it ethical for MoviePass to sell data about its consumers to outside firms? Why or why not?
Source: Brooks Barnes, "MoviePass Adds a Million Subscribers, Even if Theaters Aren't Sold on It," The New York Times, December 27, 2017.