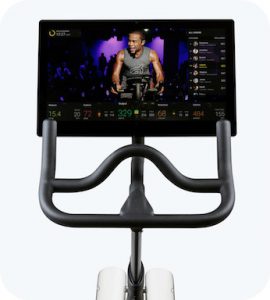 Since launching a few years ago, the New York-based startup Peloton has grown into a $4 billion company by offering its high-end clientele a "private indoor cycling studio in your home." For $2,000 plus a $39 monthly membership fee, customers receive a Peloton stationary bike equipped with a touchscreen that can stream more than 13,000 live and on-demand cycling classes. These workout sessions are often driven by upbeat songs from well-known artists to keep bikers peddling with enthusiasm.
But while music plays an essential role in the Peloton experience, a recent lawsuit alleges that the company violated copyrights by failing to secure licenses for thousands of popular songs. The complaint seeks $150 million in damages and claims that Peloton did not obtain permission from music publishers to use tunes by Bruno Mars, Lady Gaga, Rihanna, and many others. "The best analogy to this would be is if a movie used music and didn't have permission," said David Israelite, president and CEO of the National Music Publishers Association. The suit goes on to claim that Peloton obtained the proper licenses to use other pieces of intellectual property but didn't bother to do the same with its music playlists. "Peloton is a textbook willful infringer," says the lawsuit. "[T]here is no doubt that Peloton's infringement was and continues to be knowing and reckless."
About a week after the complaint went public, Peloton responded by removing all workout videos that contained songs or artists named in the lawsuit. "The filing of the lawsuit is unfortunate and disappointing, as it occurred after what appeared to be fruitful discussions with most of the publishers named," said founder and CEO John Foley. While it remains to be seen how this decision plays out in court, the suit's plaintiffs aren't particularly impressed by Peloton's gesture. "The best way for Peloton to prove that it wants to 'partner' with songwriters is to respect their rights and pay them," said Israelite. "Removing music that hasn't been properly licensed for years is too little and too late, and proves that Peloton should not have offered such music in the first place."
Questions:
Why do movie studios and companies like Peloton need to obtain licenses in order to use certain songs?
Do you think Peloton's removal of popular songs from its workout videos will hurt the company's reputation among its high-end customer base? Why or why not?
Sources: Amy X. Wang, "Peloton Is Being Sued by Music Publishers for $150 Million," Rolling Stone, March 19, 2019; Megan Cerullo, "Peloton Removes Workout Classes Featuring Allegedly Stolen Songs," CBS News, March 26, 2019.