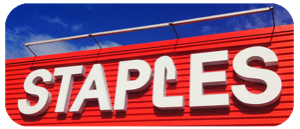 Last year the retail chain Staples signed a contract to become the State of New York's official office-supplies vendor, which looked like quite a coup at the time. After all, the agreement put Staples in direct contact with city halls, schools, police departments and charities across the state. In fact, the company was so desperate to tap this lucrative market that it pledged to sell a number of products for just a penny apiece. While this bold promise helped Staples win the contract with the government, the chaos that followed shows how the company bit off far more than it could chew.
Staples thought that sales of non-discounted items would outweigh the penny products. The reality of the situation turned out quite differently. For instance, a Brooklyn charity ordered more than 240,000 boxes of tissues and 48,000 rolls of paper towels. One school district paid just $254.69 for nearly $600,000 worth of merchandise. "When an invoice comes in for a truckload that says $27, you're scratching your head in disbelief," said Ken Morton, the purchasing manager for the school district. Despite the outrageous orders, Staples continued to fulfill them without question for a few months. All told, the company received $9,300 for delivering goods with a list-price value of $22.3 million.
In order to win the big government contract, Staples ended up making promises it couldn't afford to keep. The company agreed to charge one cent for a whopping 219 items, including a cheap 12-pack of chalk normally priced at $1.01. But among the modest markdowns were big bargains like a $1,100 paper shredder and a high-capacity flash memory drive valued at $249.99. Many government departments and charities had no immediate need for these items, but the fire sale prices made them irresistible. Staples received 6,000 orders for the penny paper shredders when it had originally anticipated only 41 prospective customers. In the end, the company delivered 154 penny shredders. It halted the one-cent program after three months and remains in discussions with the State of New York to resolve this issue. Those who received their penny items are allowed to keep them, although one person who now owns a storage unit full of Dust-Off spray cans and 24,000 pens may have some regrets.
Questions:
What was the major fault in Staples penny products program?
What do companies hope to gain when they offer discounted items?
Source: Mark Maremont, "When Staples Offers Items for a Penny, New York buys Kleenex by the Pound," The Wall Street Journal, July 23, 2014. Photo by Mike Mozart.