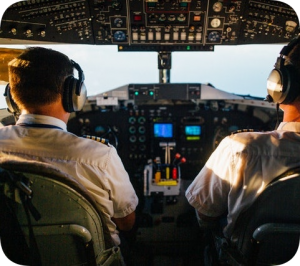 Since the start of the summer travel season, air carriers have canceled thousands of flights as they grapple with bad weather, high fuel costs, and rampant inflation. Along with these problems, airlines are also encountering increased resistance from one of their most important groups of employees: pilots. Faced with large workloads and an unpredictable post-pandemic environment, pilots are demanding substantial wage increases as well as quality of life benefits from their employers. 
According to analysts, airlines are likely to give in to some of these demands due to a pilot shortage that the industry inadvertently helped to create. When the Covid-19 pandemic first hit in 2020, air carriers ceased nearly all operations as they grounded fleets of planes and sent employees home on leave. In an effort to save money during this time of massive losses, airlines encouraged thousands of pilots and other high-paid workers to accept early-retirement offers. These buyouts allowed companies to temporarily make ends meet until air travel picked up again, leaving carriers scrambling for pilots to meet rising demand. Airlines are now hiring and training pilots in record numbers, but unions are pushing for changes to protect workers in this volatile industry. 
One captain for Delta says that "pilots can show up to work and have their schedule completely jumbled and not have any idea where they're going to be laying over that night," sometimes resulting in unplanned extended trips. So while two major airlines have recently offered their pilots pay increases of more than 14 percent, any potential deals will also have to confront quality of life issues as well as salaries. "You absolutely cannot address quality of life with money," said Casey Murray, a pilot and the president of the Southwest Airlines Pilots Association. "You're never going to pay someone enough for a lost piano recital with their daughter or a lost baseball game."
Questions:
How did U.S. airlines inadvertently help create the recent pilot shortage?
Why are pilots demanding improved quality of life benefits along with increased wages? 
Source: Niraj Chokshi, "Airline Pilots Seek Big Raises, and Broader Changes," The New York Times, July 10, 2022.