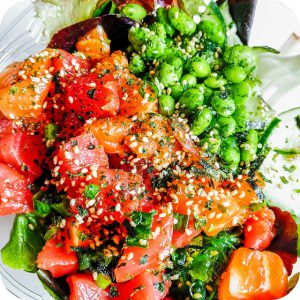 If you've never heard of poke (pronounced poe-kay) before, then you're certainly not alone. This Hawaiian dish consisting of marinated sushi served over rice has been popular with eaters in the 50th state since the 1970s. For many people on the U.S. mainland, however, this meal remained a mystery until a few years ago when poke joints began to pop up along the east and west coasts. It has since grown into a nationwide trend: according to Foursquare more than 700 restaurants served poke in 2016, a 100 percent increase from two years before.
Along with becoming increasingly popular with diners, poke restaurants are also cheap to open compared to other restaurant ventures. After all, entrepreneurs don't need to install stoves or expensive ventilation systems in order to serve raw fish over rice. "You can open a poke restaurant in a closet," said Michael Parlapiano, a San Francisco-based restaurant consultant. "There's a low barrier to entry." As a result, the U.S. could soon become saturated with poke joints. For instance, an investigation by the Hollywood Reporter discovered that the number of poke restaurants in Los Angeles had increased 10-fold between 2015 and 2017. Besides potentially turning off customers through overexposure, this glut of poke spots can also lead to conflicts between territorial entrepreneurs.
That's what happened recently to the owners of Aloha Poke Stop in Anchorage, Alaska, when they received a cease-and-desist letter to remove "aloha" from their company name. The order was sent by lawyers representing Aloha Poke Co, a Chicago-based chain with several locations in the Midwest, who claimed that the company had trademarked the term "aloha poke." In fact, Aloha Poke Co had sent similar letters to restaurants throughout the country, many of which had Hawaiian owners. When news broke about these legal battles, angry consumers took to social media to blast the company both for targeting small businesses as well as cultural appropriation. The outcry forced Aloha Poke Co to apologize via Facebook while also denying any ill-will on its part. Only time will tell if Midwestern consumers will choose to forgive the company or move on to one of its many competitors.
Questions:
Why have poke restaurants become so popular recently? Do you think they will continue to be trendy in the years to come?
Do you think the Aloha Poke Co has a right to pursue legal action against companies like Aloha Poke Stop? Why or why not?
Sources: Helaine Olen, "Pretty, Tasty, and Cheap: How Poke Became the Instagram-Friendly Fad Food," Inc., July/August 2018; Breena Kerr, "Outrage as Aloha Poke Co Tells Hawaiians to Stop Using 'Aloha' With 'Poke,'" The Guardian, July 31, 2018. Photo by Dale Cruise.