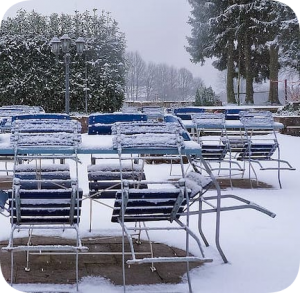 When summer came to a close last year, restaurants across the country scrambled to keep diners eating outdoors even as the weather turned cold. This led to improvised setups with shelters and gas heaters that sometimes brought about more problems than they solved. For example, every night Ellen Yin's restaurant in Philadelphia would burn through more than 10 propane tanks for their heat lamps, with staff often changing the tanks throughout the evening. "A couple of times I went to Home Depot in the middle of service," said Yin.
The restaurateur does not plan to make the same mistakes this winter, though. Yin has ditched the gas-powered lamps for infrared overhead heaters along with blankets that can be easily laundered. Her restaurant is also planning to serve warm items like cider, tea, or broth on especially chilly nights. "We want to help people feel warmer physically and psychologically," said Yin. Plans like these are becoming more commonplace among restaurants that want to continue offering outdoor dining to guests who are not comfortable with eating indoors in the pandemic. 
Not only do eateries hope to create welcoming atmospheres in the cold, but also many customers are expecting improvements on last year's outdoor dining efforts. So rather than relying on the same plastic furniture that they bought in a rush in 2020, restaurants now face pressure to invest in winterized structures and expensive heaters. Of course, not every entrepreneur is willing to commit to such costly additions, especially when it remains difficult for those in the hospitality industry to hire and keep employees. That's why for Mark Domitrovich of Chicago, the restaurants that make up his company Pioneer Tavern Group will use the same canvas coverings and gas heaters as last year. "We're staying pat with what we have," said Domitrovich.
Questions:
Why are many restaurants looking to improve their outdoor dining setups this winter? 
Do you think it is worth the expense for restaurants to invest in outdoor dining amenities like infrared heaters and winterized structures? Why or why not?
Source: Alina Dizik, "Restaurants Spend Big for Upgraded Outdoor Dining With Quicker Service, Elaborate Decor for Winter," The Wall Street Journal, October 7, 2021.