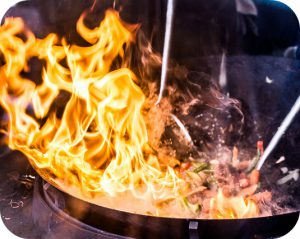 From picking up apples to distressing jeans, automation is spreading to almost every business you can imagine. And if you happen to live in the Boston area, you could swing by the new restaurant Spyce today and have your lunch prepared by robots. This automated eatery is the result of a partnership between a group of young engineers from the Massachusetts Institute of Technology and renowned chef Daniel Boulud. Together these intrepid entrepreneurs claim they have created "the world's first restaurant featuring a robotic kitchen that cooks complex meals."
Spyce's menu centers on customizable bowls that feature a lot of healthy options like vegetables and grains. Diners start the process by placing and paying for their order at a touch-screen kiosk. Once they enter their order, an "ingredient delivery system" heads to the refrigerator to collect all the necessary items. "The ingredients are portioned into the correct sizes and then delivered to a robotic wok, where they are tumbled at 450 degrees Fahrenheit," said co-founder Michael Farid. "And once the process is complete, the woks tilt downward and put food into a bowl. And then they're ready to be garnished and served." Plus, customers can watch this procedure take place thanks to an electronic display that shows their name over the wok that's cooking their order. (Click here to see this process in action.)
Along with their robot chefs, Spyce also employs a number of human beings. At the front of house, the restaurant uses a "guide" to greet customers and help them with their orders. Back in the kitchen, meanwhile, humans prep the food as well as add the garnishes that come on top of every Spyce bowl. Still, even these tasks could become automated in the future. According to a recent report from the McKinsey Global Institute, "73 percent of the activities workers perform in food service and accommodations have the potential for automation, based on technical considerations." Of course, the culinary world's fully automated future won't likely arrive anytime soon. For instance, last year analysts predicted that the burger-cooking robot Flippy would eventually dominate the fast food industry. In March, though, the California restaurant that uses the innovative patty flipper temporarily decommissioned him for working too slow.
Questions:
Should more restaurants utilize automation like Spyce has?
What do you think about the rise of automation in the workplace? Do you see it as a potential threat or benefit for human workers?
Source: Peter Holley, "The Boston Restaurant Where Robots Have Replaced the Chefs," The Washington Post, May 17, 2018. Photo by Tony Webster.