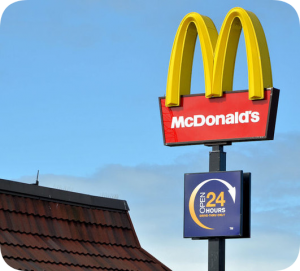 Earlier this year, McDonald's spent $300 million acquiring a data analysis and artificial intelligence startup called Dynamic Yield. Along with providing the fast food chain with tons of information about its operations, this new technology will also help the company upgrade its growing fleet of self-ordering kiosks. Customers can place orders on these large touchscreens rather than wait in line, which the company claims improves efficiency and increases sales. As a result, McDonald's wants to place these machines in as many stores as possible.
At the moment, though, the company's self-ordering kiosks have one major problem: they don't accept cash. According to one estimate, 30 percent of American fast food diners depend on cash while 40 to 60 percent of global customers use it as well. In fact, more than 8 million low-income households in the U.S. don't have access to a bank account or a debit or credit card. That means these customers wouldn't be able to avoid a busy line at one of the 9,000 McDonald's locations with self-ordering kiosks. "Lower income people just don't have access to credit cards; they're paying with a lot of things in cash," said restaurant industry expert John Gordon. "Why should they not have the same access to personalization, or to get in and out quickly if there's a line?"
To prevent such inequalities from occurring, some cities and states have introduced legislation that bans cashless stores. In Philadelphia and San Francisco, for instance, recently passed laws require all retailers to accept cash. In addition, McDonald's self-ordering kiosks are not just a problem for customers without credit cards. These machines have also been a burden for McDonald's franchisees, with many spending as much as $750,000 per location on kiosks and other improvements. Besides paying to install the large touchscreens, franchisees must also deal with maintenance and repair costs. "Potentially the franchisee could have to pay," said Gordon, who adds that the fast food chain "should have thought about that" before.
Questions:
What are the advantages and disadvantages of McDonald's self-ordering kiosks?
Do you think more cities and states should pass laws that ban cashless stores? Why or why not?
Source: Leslie Patton, "McDonald's Finds a Flaw in Ordering Kiosks: No Cash Accepted," Bloomberg, November 13, 2019. Photo by Albert Bridge.