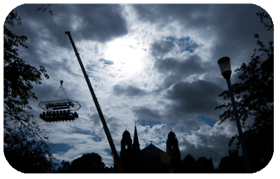 On the surface, it might seem like bungee jumping and fine dining don't have much in common. But at a company called Dinner in the Sky, elements of these two seemingly unrelated concepts are combined to create an incomparable dining experience.
The business began in 2007 when a European restaurant association hired marketer David Ghysels to put together a suspended aerial dinner for promotional purposes. Ghysels teamed up with bungee-jumping expert Stefan Kerkhofs to design an advanced high-wire table that could hold a dozen diners and additional wait staff mid-air. The resulting dinner was a hit with their clients, who spread word about the unique meal to their foodie friends. Soon Ghysels and Kerkhofs were flooded with requests to stage similar dinners in other far-flung places. With so much interest, the pair decided the best way to expand their concept was to franchise it. Within a few years, Dinner in the Sky had landed franchisees in countries all around the world.
Most events staged by the company are one-night engagements that are meant to create buzz for a particular client while also thrilling diners. However, one Las Vegas franchisee is working to make Dinner in the Sky a permanent feature in Sin City. In 2008 Janeen Hinden bought a franchise, rented a couple of cranes and staged a three-month test run of the concept in Vegas. "It was a phenomenon," says Hinden. In fact, Hinden's Dinner in the Sky location managed to bring in multiple repeat customers, showing that the idea had the potential to become more than just a fad. She then got rid of the cranes in favor of a pair of platform-raising towers that required clearance from the Federal Aviation Administration to build. Hinden hopes the towers will be up and running soon to serve up to 44 customers floating 180-feet above the earth at two tables. As far as the meal goes, most of the cooking takes place on the ground using ingredients that are unlikely to be choking hazards. Guests are also advised to use the bathroom before strapping in for the trip up, although the table can be lowered in case of emergencies.
Questions:
Does Dinner in the Sky have the potential to be a long-standing franchise?
What significant risk does Dinner in the Sky face in franchising its concept?
Source: Jason Daley, "Meet the Franchise Serving Dinner in the Sky," Entrepreneur, January 9, 2014. Photo by Tom Parnell.