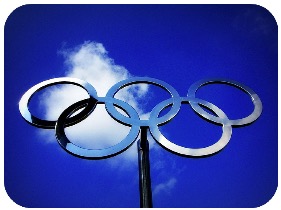 In spite of a few setbacks like a green diving pool and the actions of a blue-haired nincompoop, the 2016 Rio Olympics packed in plenty of action and emotion over its two-week run. For all the unparalleled athleticism on display, however, the TV ratings reward for the games' American broadcaster NBC was relatively lackluster. The network brought in an average audience of 25.4 million during its primetime coverage, an 18 percent drop from the London 2012 games. While NBC received an additional 2.1 million viewers from live streaming and other broadcasts, all their sources of viewership combined still fell short of the broadcast-only results from four years ago.
These decreased numbers are especially distressing for NBC considering that Rio de Janeiro's time zone differs by only a few hours from much of the U.S. Executives expected viewers would be more inclined to watch events live, yet ratings still dropped. Meanwhile, the next three Olympic competitions in South Korea, Japan and China are half a world away, leading to time differences as large as 14 hours. Viewers will likely learn the results of their favorite events long before they are broadcast, potentially limiting NBC's audience even further. "You'd be a lot less concerned if you were in the United States or in Continental Europe," said Rich Greenfield from the firm BTIG Research. "Ninety percent of the content from Asia will be happening when we're asleep — and when we wake up we'll see our Twitter feeds and news stories telling us what has already happened."
Then again, live programming didn't boost the network's ratings too much during the Rio games, suggesting that viewers might not mind watching on a delay. What's more, NBC still dominated prime time viewership across all networks while also streaming more than 3.3 billion minutes of Olympic highlights online. According to Greenfield, though, NBC might not be able to keep viewers waiting until prime time to watch their favorite events. With more people binge watching television based on their own schedules, programmers at the network will surely have trouble keeping people tuned in during peak hours. For the upcoming Winter Olympics in Pyeongchang, South Korea, NBC is hoping to schedule popular events like figure skating and skiing in time slots that would allow them to be broadcast live on the East Coast. But if this year's Olympics was any indication, their efforts might not make much of a difference to today's changing TV viewer.
Questions:
Should NBC focus on broadcasting the Olympics via the Internet rather than television?
Do you think this year's Olympics had fewer viewers because of NBC's coverage or due to a general decline in interest?
Source: Richard Sandomir, "With Audience Shrinking, NBC Looks Cautiously to Olympics in Asia," The New York Times, August 22, 2016. Photo by Shawn Carpenter.