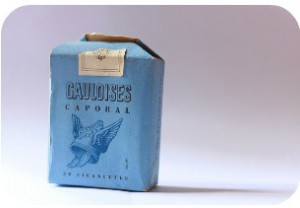 France is home to more than 13 million smokers, which includes one-third of teenagers and a quarter of adults. For years the nation's health ministry has attempted to reduce this enormous number by spearheading initiatives that target the consumer appeal of cigarettes. For instance, the French government has long followed European Union laws requiring tobacco companies to cover 65 percent of their packaging with health warnings. In May, however, lawmakers took this concept a step further by passing "neutral packaging" legislation that aims to eliminate cigarettes' branding power once and for all.
Under the new rules, tobacco firms must redesign their products to a uniformed size with all brand names appearing in small, uniform font. The idea is to remove any distinction that can be added to cigarettes through clever packaging. According to the French health ministry, famous domestic brands like Gauloises and Gitanes use "feminine icons" to lure smokers while American names like Lucky Strike and Marlboro Gold imply feelings of "luck and success." In fact, legislators have suggested that these brands are so pervasive that they may be banned entirely.
This news understandably rattled many tobacco executives, leading several to band together to appeal to the government. "The lack of visibility in the measure's content, the way it will work and when it will be applied, puts us in a legally uncertain position," wrote a group of cigarette industry leaders in a letter to the French prime minister. With the neutral packaging law scheduled to take effect in November, these executives are seeking clarification from the government about exactly what they will be required to do. For some companies that may mean phasing out iconic brand names like Gauloise, a decision that has the potential to outrage smokers worldwide. For French health officials, however, these angry customers are a far lower priority than the nation's approximately 78,000 people who die from smoking annually.
Questions:
Will France's neutral packaging law actually discourage citizens from smoking cigarettes?
Should U.S. lawmakers introduce cigarette-packaging regulations similar to those passed by France and the European Union?
Source: Kim Willsher, "Smokers Fume as France Mulls Ban on 'Too Cool' Gitanes and Gauloises," The Guardian, July 20, 2016. Photo by Igor Maynaud.