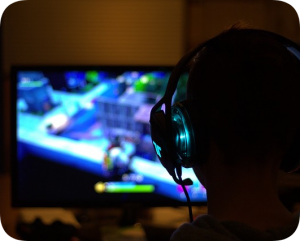 In 2018 users on the video streaming platform Twitch watched more than 505 billion minutes of live streams, up from 355 billion minutes the previous year. At some point many of those viewers likely tuned into Tyler "Ninja" Blevins, a streamer of the video game Fortnite who once boasted more than 14 million followers on Twitch. Along with earning ad revenue and subscription money from streaming, Ninja also made millions from lucrative endorsement deals with companies like Uber Eats and Red Bull. He even appeared on the cover of ESPN the Magazine last year, becoming the first Twitch streamer to do so.
Then earlier this month Ninja shocked the gaming world by announcing that he signed an exclusive contract with another streaming platform called Mixer. Purchased by Microsoft in 2016, Mixer has lagged behind its competitors in the streaming market. For instance, in 2019's second quarter Twitch accounted for 70 percent of hours watched among major streaming platforms while YouTube comprised 20 percent. Mixer only took a 3 percent share. So in order to increase viewership, the company struck a multimillion dollar deal with Ninja. Within a day Mixer's mobile app became one of the top downloads in the App Store as thousands of new users flocked to the platform. 
Nevertheless, Mixer has a lot of ground to make up against the Amazon-owned Twitch and Google's YouTube. In fact, Twitch has become so important to the $150 billion global video game industry that even Wall Street analysts depend on it to judge the popularity of certain titles. According to one talent agent, Twitch streamers that attract audiences of at least 10,000 viewers per broadcast can now earn between $2 million and $4 million annually. At his Twitch height Ninja averaged 41,000 simultaneous viewers, meaning that he likely earned tens of millions of dollars. Although his current contract with Mixer is worth a similar amount, only time will tell if he can attract the same huge audience both to his own channel and to Mixer as a whole. 
Questions:
Do you think Ninja will help Mixer grow into a major competitor to Twitch? Why or why not?
Why have streaming platforms like Twitch and Mixer become so important to the $150 billion video game industry?
Source: Sarah E. Needleman, "Microsoft Aims to Reset Videogame-Streaming Market With 'Ninja' Pact," The Wall Street Journal, August 11, 2019.