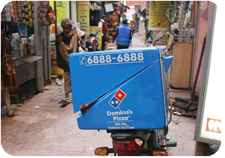 With a consumer pool of more than one billion people, India has become the next big expansion destination for companies around the world. While some businesses are still working the bugs out of their strategies for the subcontinent, other operations have hit the ground running and quickly grabbed up market share. Domino's, for instance, now sells more pizza in India than anywhere else besides the U.S. thanks to its savvy combination of local and Western tastes. On the other hand, though, the nation's burgeoning online retail industry has a long way to go before it can earn the trust of regular consumers.
In Domino's case, the company rethought nearly every aspect of the business in order to win over Indians. As discussed in Chapter 3 of the textbook, this isn't necessarily a unique strategy: food chains have long altered their offerings in foreign markets in order to appeal to local tastes. Although Domino's executives recognized that they'd have to change the menu, they also knew that the brand's Western appeal was just as vital as providing familiar foods. The chain then spent eight months studying everything from flour to toppings in their search for the perfect Indian-style pizza. In the end they arrived upon an item called "Pizza Mania," a 60-cent pie that takes a couple minutes to assemble and just a few more to bake. Domino's claims that its dedication to detailed research and development nets them 20 percent more revenues in India than competitors like McDonald's.
For the nation's online retailers, however, having such tight control over each aspect of the business is a distant dream. Due to a lack of warehouses, skilled workers and transport, many consumers have to deal with delays and even damaged goods when ordering online. In fact, one consumer who bought a smartphone from Snapdeal.com was shocked to discover that the package delivered to his home contained only a brick and a bar of soap. Company representatives claimed that corrupt middlemen had stolen the phone somewhere along its journey to the customer's doorstep. As long as logistical issues like these continue to plague Indian online retail, big names like Amazon and Alibaba will have to wait before they can attempt to make a Domino's style impact.
Questions:
What lesson can be learned from Domino's success in India?
Is India ready to venture into online retailing?
Source: Saritha Rai, "How Domino's Reinvented Itself to Win in India," Fast Company, February 2015. Adi Narayan, "Buy a Samsung Phone Online in India and You Get a Brick," Bloomberg BusinessWeek, December 8, 2014. Photo by: Connie Ma.