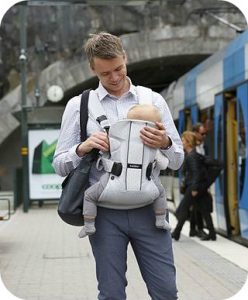 By the end of the year, companies around the world will generate an estimated $11 billion in revenue by selling baby products like diaper bags and infant carriers. Despite the size of this booming industry, though, many baby businesses are continuing to overlook a growing target market: dads. Of course, this is largely due to the fact that mothers remain the primary caregivers in many American families. But dads have made great strides in recent times to involve themselves further in the day-to-day duties of raising kids. In a 2015 survey, fathers reported spending an average of seven hours a week on childcare, which amounts to triple the time they shared with their children in 1965.
Still, just because modern dads are becoming more involved doesn't mean they necessarily like carrying floral-printed diaper bags or pushing pink strollers. Thankfully for these image-conscious fathers, that's where companies like Tactical Baby Gear come in. This South Carolina-based business urges dads to "ditch the girly diaper bag" by purchasing camo- and khaki-colored infant products designed to look battlefield-ready. Tactical Baby Gear is one of at least six companies that makes military-style childcare items in order to serve "a market full of guys sick of diaper-bag emasculation." Some of these businesses have seen sales double or triple over the past year as more men look to put a macho spin on their parental responsibilities.
The majority of these products rely on a webbing called "molle," pronounced like the name "Molly" and standing for Modular Lightweight Load-carrying Equipment. Along with being light and durable, this material makes the average baby carrier look like a battlefield medical kit. Customers can also add accessories to their bags, such as Tactical Baby Gear's "dump pouch." Based off of a gun-range pouch used to collect spent ammo casings, the infant carrier version is meant to hold a smellier sort of item. Some companies even boast that their masculine baby products could survive in a war zone, although they certainly don't recommend it.  "I'm not expecting someone to take any of the baby carriers into battle," said Scott Haslam, founder of Babyjacs UK Ltd. "But if they did, I'm sure it would stand up very well."
Questions:
Why have many baby product companies historically targeted mothers rather than fathers? How has this changed in recent years?
Do you think new companies like Tactical Baby Gear will continue to grow? Could they soon face competition from more established baby product makers?
Source: Corinne Ramey, "Worried About Diaper-Bag Emasculation? We Have One in Camo," The Wall Street Journal, January 15, 2018. Photo by Ah-Young Andersson.