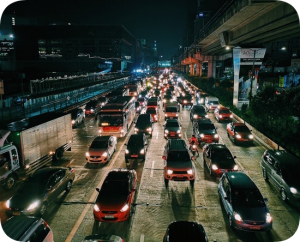 If you have plans to travel this week for Thanksgiving, then you should already know that you won't be the only one. According to experts, a record number of travelers will either fly or drive at least 50 miles to celebrate the holiday. As a result, the nation's airports and highways will be jammed with travelers, inevitably leading to widespread traffic and plane delays. 
The trade organization Airlines for America estimates that a record 31.6 million people will fly this week, an increase of nearly 4 percent from last year. In fact, this Sunday will be the busiest air travel day in history as 3.1 million people pack into airports looking to head home. Nearly 3 million people will fly tomorrow as well, although the number of air travelers will drop significantly on Thanksgiving. Just 1.79 million people are expected to fly on the day itself, making it by far the best time to travel by plane.
But travelers could still face delays once they land. AAA estimates that nearly 50 million people will travel by car for the holiday, the most since 2005. What's more, meteorologists predict large parts of the country will get hit with rain and snow storms that could increase congestion. American cities have also become more densely populated in recent years, leading to increased traffic that only becomes worse on holidays like Thanksgiving. "With record levels of travelers, and persistent population growth in the country's major metropolitan areas, drivers must prepare for major delays," said transportation analyst Trevor Reed. "Although travel times will peak on Wednesday afternoon nationally, travelers should expect much heavier than normal congestion throughout the week."
Questions:
Do you think this year's high number of Thanksgiving travelers demonstrates the current strength of the economy? Why or why not?
How do you think increased traffic and bad weather affects businesses during holidays like Thanksgiving?
Source: Katia Hetter, "Record-Setting Air Travel Expected for Thanksgiving," CNN, November 25, 2019.