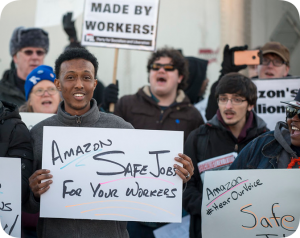 Analysts at Adobe estimate that consumers spent more than $29 billion online last week between Thanksgiving and Cyber Monday. Although brick-and-mortar sales rose slightly as well, e-commerce sales surged to record highs as consumers increasingly turned to online retailers for their holiday shopping needs. In fact, experts predict that companies like Amazon earned as much as $9.4 billion on Cyber Monday alone. 
But while Amazon enjoyed another successful start to the festive season in the U.S., the e-commerce giant also faced a wave of protests across Europe on Black Friday. In Germany workers walked out of six distribution centers to join demonstrations that spoke out against the company's employment practices. The strike lasted throughout the weekend as one union claimed that the hard work of its members could not be bought for "knock-down prices." Meanwhile in France, climate change protestors blocked the entrances to several Amazon fulfillment centers. The e-commerce giant has faced increasing criticism for its dependance on rush shipping, a practice that is great for consumers but potentially harmful for the environment. 
While Amazon said these protests and strikes did not affect its ability to do business, the company is facing mounting pressure from activists over its labor conditions both globally and domestically. According to two recent reports, some Amazon warehouses in the U.S. have injury rates that are more than triple the national average. What's more, last week the Center for Investigative Reporting published a story alleging that Amazon worked with Indiana officials to misclassify the death of a warehouse worker. A whistleblower claims that his colleague died in a forklift accident due to inadequate safety training, which was subsequently backed up by an OSHA investigation. Then Indiana officials allegedly got involved and worked with Amazon to place the blame on the victim, all in an apparent effort to win the company's favor as it looked for a destination to build its second HQ. Although Amazon denies any wrongdoing, this bombshell story certainly provides more evidence for the company's growing number of critics. 
Questions:
Do you think protests and strikes against Amazon could eventually affect the retailer's ability to do business? Why or why not?
Do you think a company of Amazon's size should be broken up into smaller components? Why or why not?
Sources: Devin Coldewey, "Report Alleges Amazon Worked With Indiana to Downplay Warehouse Worker's Death and Safety Concerns," TechCrunch, November 26, 2019; "Amazon Hit by Black Friday Walkouts and Protests in Europe," BBC, November 29, 2019; Isobel Asher Hamilton, "Thousands of People Across Europe Are Protesting and Striking Against Amazon on Black Friday," Business Insider, November 29, 2019; Shannon Liao, "Black Friday Pulls in a Record $7.4 Billion in Online Sales, as Many Turn to Mobile Orders," CNN, December 1, 2019. Photo by Fibonacci Blue.