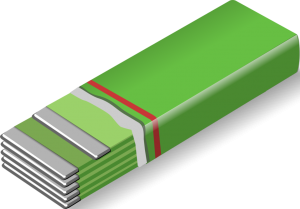 Although gum companies like Wrigley have been in business for more than a century, today's consumers aren't nearly as interested in chewing gum as past generations. From 2010 to 2018, gum sales dropped by 23 percent in the U.S. and 4 percent globally. "Chewing gum is becoming less socially acceptable," said Mondelez Foods CEO Dirk Van de Put. As the maker of brands like Trident and Dentyne, Mondelez and its competitor Wrigley are trying to convince consumers that gum can be more than just a chewy breath freshener. "The consumer these days is becoming much more interested in the functional benefits of food," said Van de Put. "Gum is an interesting carrier of benefits."
For instance, Mondelez recently introduced a gum in Europe under its Halls brand that is also marketed as a cough suppressant. Other companies have developed gums that claim to help with insomnia, boost energy, or ease headaches. One brand called Fly Gum even claims to help travelers and pilots overcome jet lag. These companies are hoping to attract a growing number of consumers who want products that are functional as well as enjoyable. Last year, sales of gum with added benefits increased slightly while established brands continued to slump, leading some to believe that this could be the industry's future.
Of course, only time will tell if consumers will trust the health claims made by gum brands. According to manufacturers, chewing gum laced with vitamins and other supplements can enter the bloodstream much quicker than swallowable pills. But medical professionals have pushed against the claims of gum brands like Snack Less, an appetite suppressant that relies on a plant-based extract. Although the company says this helps customers lose weight, doctors point out that there is little evidence to back up this claim. And while Snack Less and other gums have been approved safe for use by the Food and Drug Administration, the government agency doesn't say whether a product delivers on its advertised health benefits. As a result, the public will be the ultimate judge over whether or not these new gums live up to their lofty claims.
Questions:
Why are food companies creating gum brands that claim to provide additional health benefits?
Do you think the Food and Drug Administration should evaluate whether or not a product delivers on its advertised health claims? Why or why not?
Source: Annie Gasparro and Saabira Chaudhuri, "Chew on This: Gum That Promises to Help You Sleep and Make You Skinny," The Wall Street Journal, December 3, 2019.