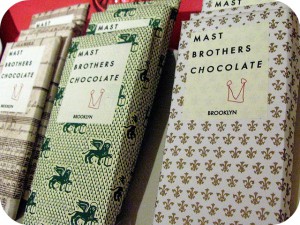 For almost a decade, the Brooklyn chocolate company Mast Brothers seemed to embody the New York borough's newfound artisanal spirit. Touting their product as handcrafted "bean-to-bar" chocolate, founders Rick and Michael Mast took center stage in marketing campaigns that celebrated their candy's quality and authenticity. Dressed in antiquated suits and sporting long Civil War-era beards, the pair soon became just as famous for their appearance as their $9 candy bars. But this meticulously crafted image may have been spoiled for good thanks to a recent exposé by an industrious food blogger.
In December 2015, Scott Craig of DallasFood.org published an exhaustive four-part series that accused the brothers of being "re-melters" in their early days. Mast Brothers' well-publicized founding story says that Rick and Michael began making bean-to-bar chocolate in 2007 in their Brooklyn apartment. According to an analysis by Craig, however, there's no possible way that the brothers could have made chocolate from scratch in such a small space. Instead, he deduced that they had re-melted an industrially produced chocolate called "couverture" to make their first bars.
A widespread Internet backlash quickly developed as the story got around, forcing the brothers to admit publicly that they had re-melted industrial chocolate when they first launched. The admission only intensified criticism as thousands took to social media to mock Mast Brothers' old-timey image and expensive chocolate. Still, it's tough to determine if this burst of online hatred will translate into long-term animosity towards the brand. While some specialty retailers say that customers are buying significantly less of the chocolate, Mast Brothers claims that overall sales have held steady despite the bad press. What's more, the company has recently established partnerships with big retailers like Whole Foods and are even close to opening a six thousand square foot store in London. Ultimately, only time will tell if the sins of its past will prevent Mast Brothers from growing into a global brand.
Questions:
Should Mast Brothers change its marketing strategy in response to this recent PR crisis?
What risks do companies face when they develop an "artisanal" brand image? Do they face more scrutiny from the public than other companies?
Source: Keenan Steiner, "Mast Brothers Controversy Sunk Some Shops' Holiday-Season Sales," Grub Street, January 18, 2016; Dana Goodyear, "The Way Forward for Hipster Food," The New Yorker, January 26, 2016. Photo by: Ann Larie Valentine.