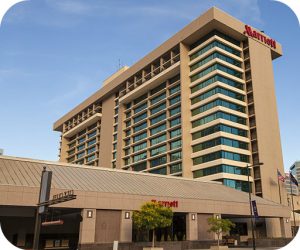 With about 6,700 hotels operating under 30 brands in more than a hundred countries, Marriott International is by far the world's largest hotel chain. Last year the company earned profits totaling $1.37 billion as guests from around the globe checked in and out of properties like Sheraton, Ritz-Carlton, and Westin. Over the last few weeks, however, 23 hotels owned by Marriott have not been operating as usual. That's because since October 8th the employees at these locations have been on strike against the company.
All told, approximately 7,700 workers are currently walking picket lines in front of Marriott hotels in cities like Boston, San Francisco, Honolulu, and several others. These locations are part of a group of 40 hotels where collective bargaining agreements with the company are due to expire by the end of the year. The 17 other locations currently have no picketing plans in place. For those workers that have gone on strike, though, their chief demand is to receive wages that keep up with the the cost of living in increasingly expensive cities. At a Sheraton location in Honolulu, for instance, housekeepers earn just enough to keep them slightly above the "very low income" limit set by the U.S. Department of Housing and Urban Development.
The union representing these workers also has concerns about automation and the long-term effect it will have on employment opportunities. Additionally, striking workers want Marriott to revamp its "Make a Green Choice" program that grants loyalty points to guests who go without daily housekeeping services. While the union supports the company's efforts towards sustainability, they say the program throws off carefully planned cleaning schedules at many hotels. To combat this, workers say they simply need more time to do their jobs.
Of course, right now there's no telling whether or not Marriott will accept any of these demands. In the meantime, click here for a list of hotels where workers are currently on strike if you want to avoid crossing a picket line during any upcoming trips you may have. After all, major sports teams like the New York Yankees and Los Angeles Dodgers received loads of criticism after photos appeared on social media of their athletes crossing Marriott picket lines.
Questions:
Why are hotel workers at 23 Marriott locations currently striking against the company?
Let's say you booked a hotel room at a Marriott without knowing that its employees are currently on strike. Would you go through with your reservation like usual, or would you cancel it to avoid crossing the picket line?
Source: Karen Schwartz, "What You Need to Know About the Strike Against Marriott Hotels," The New York Times, October 31, 2018. Photo by Ricardo630.