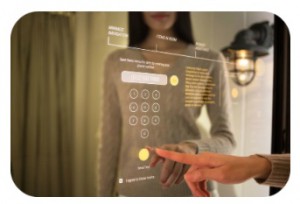 As e-commerce companies like Amazon become more and more popular, traditional retailers have scrambled to find ways to bring people back into stores. Along with placing scannable QR codes by items, brick and mortar outlets have also tried large internet kiosks that allow customers to browse their online stores. Despite retailers' best efforts, though, these attempts at modernizing haven't caught on with consumers. After all, who would walk into a place just to check its online store?
The startup Oak Labs is hoping to reverse this tech-averse trend in retail. The San Francisco company produces "smart mirrors" for dressing rooms that provide consumers with an enhanced buying experience. When they walk into an Oak Labs-enabled dressing room, customers simply scan a tag to bring an item up onto a touchscreen embedded in the mirror. The system then displays all the sizes of that item currently in stock along with recommendations of clothes that would match well. Customers can even adjust the lighting or easily call over salespeople if something doesn't fit right.
Smart mirrors also provide retailers with essential data about their stock. For instance, the upscale fashion boutique Rebecca Minkoff once discovered that a leather jacket had been tried on more than 70 times in a week and no one had bought it. Half the customers inquired about a different size, leading the company to determine that the jacket had a problem with its fit. Still, information like this comes with a price: an Oak Labs smart mirror costs $25,000 along with a monthly software licensing fee. Although expensive, the company thinks that the ever-growing importance of changing rooms will win over skeptical retailers. And with customers seven times more likely to buy an item if they try it on first, Oak Labs might just be on the right track.
Questions:
Will technological advancements like smart mirrors encourage consumers to go to stores rather than shop online?
Is an Oak Labs smart mirror worth $25,000 plus additional monthly costs?
Source: Matthew Townsend, "'Smart Mirrors' Come to the Fitting Room,'" Bloomberg Businessweek, February 16, 2017. Photo by Oak Labs.